Sunday, November 16, 2008
MAINE UPENDS BOSTON COLLEGE, 5-3
Stech scores twice for Black Bears; Stack posts hat trick for Eagles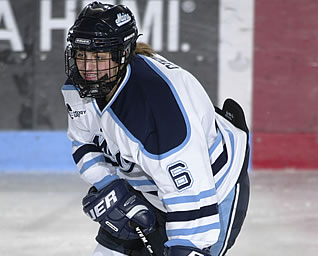 Amy Stech scored twice for the Black Bears
Orono, Maine - The University of Maine women's ice hockey team pulled out a stunning 5-3 upset over fifth ranked Boston College on Sunday afternoon. The Black Bears improve to 3-9-0 overall and 1-5-0 in Hockey East. The Eagles drop to 7-2-2 overall and received their first conference loss of the season, making them 4-1-1 in Hockey East. Maine was led by Amy Stech (Duluth, Minn.) who notched two goals, including the eventual game-winner.
The teams battled evenly for most of the first period, trading shots and saves at both ends of the rink. The Black Bears broke the ice with 1:44 remaining in the first when Stech received a pass from Vanessa Vani (St. Catharines, Ontario) and Ashley Norum (Fairbanks, Alaska) that found the back of the net to give Maine the 1-0 lead. The Black Bears extended the score 7:19 into the second period when Jenna Ouellette (Winnipeg,, Manitoba) scored a powerplay goal from Lexie Hoffmeyer (Grand Blanc, Mich.) and Jessica Bond (Namur, Quebec), it was Ouellette's fourth of the season. Boston College got on the board three minutes later when Kelli Stack (Brooklyn Heights, Ohio) answered with her own powerplay goal to make it 2-1. Only three minutes after that, Maine looked to have put the game out of reach with a momentum killing powerplay goal by Jordan Colliton (Blackie, Alberta) from Hoffmeyer and Bond, marking Colliton's second goal of the season.
Midway through the third period things began to unravel for the Black Bears. Kaitlin Zeek (Wallingford, Conn.) and Norum each were called for penalties to create a five-on-three situation. In a span of 10 seconds, the Eagle's points leader Stack scored twice to earn a hat-trick for the game and tie the score at 3-3. With momentum in Boston College's hands, Maine needed to answer quickly. Jennie Gallo (Castlegar, British Columbia) drove down the ice and put a shot on goal that the Eagles were able to stop, but not secure, leaving Stech open for the rebound goal with 7:18 remaining in the game, giving her five goals for the season. The Black Bears' Abby Barton (Woodstock, New Brunswick) put one more into the net with 4:24 left off of a Jennie Gallo pass to make the game 5-3 and seal the victory.
Boston College out-shot Maine 34-25, but were frustrated by goalie Genevieve Turgeon (Lac Beauport, Quebec) throughout the game. Turgeon (Lac Beauport, Quebec) made 31 saves as she earned the win to improve to 2-9-0 on the season.
The Black Bears look to keep the momentum going as they host the Vermont Catamounts in Lewiston, Maine at the Androscoggin Bank Colisee on Tuesday, Nov. 25, starting at 7 p.m.