Wednesday, November 5, 2008
BOSTON COLLEGE FALLS TO DARTMOUTH, 4-0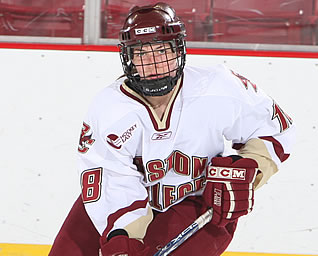 Meghan Fardelmann
Hanover, N.H. - The Boston College Women's Ice Hockey team suffered their first loss of the season to Dartmouth College, losing 4-0.
The loss gives the Eagles a 6-1-2 record, after an undefeated October. BC is now 3-1-1 against the ECAC on the season.
Freshman goaltender Kiera Kingston made her first collegiate start, collecting 35 saves and holding the Big Green scoreless in the second period.
The Eagles were 0-for-six on the power play and put 29 shots on Dartmouth goalie Carli Clemis but were held scoreless for the first time this season.
BC has the weekend off before resuming Hockey East action at home against the University of Connecticut on November 13, at 7 p.m.