Thursday, November 20, 2008
SCHAUS BACKSTOPS BOSTON COLLEGE TO 4-0 WIN OVER CONNECTICUT
Molly Schaus makes 33 saves to earn shutout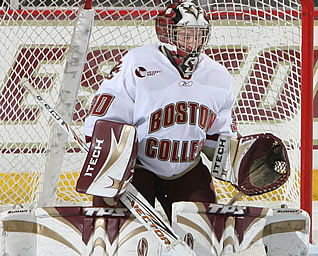 BC's Molly Schaus posted the shutout with 33 saves
Storrs, Conn. - The Boston College women's ice hockey team shutout the University of Connecticut 4-0 for their fifth Hockey East win of the season.
The Eagles improved to 8-2-2, 5-1-1 in conference play while the Huskies fell to 6-6-2, 3-4-2 in conference play.
The teams played on equal footing for most of the first period with BC having a slight advantage in shots 11-8. Connecticut had a scoring opportunity with a 2-on-1 breakaway with six minutes remaining in the first but UConn forward Dominque Thibault's shot was blocked by sophomore Katelyn Kurth and both benches headed for the locker rooms with the scoreboard blank.
The Eagles came out of the locker room firing, netting the first goal of the game less than two minutes into the second frame. Allie Thunstrom picked up a loose puck outside the face-off circle and skated to the top of the crease and passed to Kelli Stack who redirected it back to Thunstrom for the tip-in. The assist stretches Stack's scoring streak to 12 straight games.
BC's second goal came courtesy of the Eagles powerplay with Meghan Fardelmann netting goal number three of the season off a dish from Becky Zavisza.
The Huskies held the edge in shots in the second period 13-6 but were unable to find the back of the net.
The third frame was quiet until 3:04 remaining, when defenseman Kristin Regan's shot bounced off Huskies goaltender Alexandra Garcia who was unable to control the rebound and Zavisza fired it home for her first multi-point game of the season.
Maggie Taverna capped off the Eagles scoring with a shorthanded empty netter with 1:16 remaining in the game to give BC the 4-0 win.
BC netminder Molly Schaus had 33 saves in the win.
Schaus, Zavisza and Thunstrom were named the three stars of the game.
The Eagles continue Hockey East action at home on Saturday November 22 at 3 p.m. against Green-Line rival Boston University. Stick around after the game for Skate with the Eagles and autograph session to meet the players.