CONNECTICUT EDGES BOSTON COLLEGE, 2-1
Michelle Binning posts goal and assist for Huskies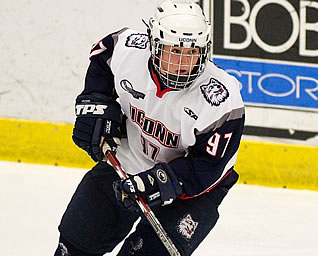 Michelle Binning scored the game-winner for the Huskies
STORRS, Conn. - A pair of power-play goals from the University of Connecticut women's ice hockey team (10-6-2, 3-4-0) was enough to win a 2-1 decision over No. 7/8 Boston College on Friday night at Mark Edward Freitas Ice Forum. The Eagles, who had claimed the last two regular season games between the two teams, suffered just their third Hockey East loss of the season.
Michelle Binning (Oshawa, Ont./Toronto Jr. Aeros Inter.) added to her team-best power-play goal total with nine minutes remaining in the third period for the win. Binning has scored four game-winning goals this season.
Cristin Allen (Pickering, Ont./Durham Lighting) sent the puck in front of the BC net from the blue line and Dominique Thibault (L'Orignal, Ont./Montreal Axion NWHL) fed it to Binning, also waiting in front of Molly Schaus for the right opportunity. Binning's third period mark was the deciding factor as the Huskies denied the Eagles (9-4-3, 6-3-1) a goal in the final 1:22 despite facing an extra attacker.
In the first period, UConn capitalized on the power play with Jody Sydor (St. Alberta, Alta./Sturgeon Composite) shooting one from just inside the blue line to give UConn a 1-0 lead at 11:05. It was Amy Hollstein (Pembroke, Mass./Lawrence Academy) and Binning with the assists.
As the Husky power play expired in the second period, Brianna Uliasz (Chalfont, Pa./Taft School) fired one high and the puck ricocheted off the cross bar. UConn was unable to repeat its early power play success despite registering six shots in three power-play opportunities in the second . The Huskies out shot the Eagles 13-4 during the second period, holding their Hockey East opponent without a shot in two power plays. For the game, UConn had the edge in shots, 29-24.
The Eagles regained possession on the UConn power play in the third period, down one goal (2-1). Boston College's Kelli Stack and Allie Thunstrom had a pair of significant short-handed opportunities denied by UConn's Brittany Wilson (Nepean, Ont./Ottawa Inter. AA). Wilson finished the game with 23 saves to earn her sixth win of the year.
UConn's 2-1 victory over Boston College snaps a five-game skid against the Eagles. The Huskies are 12-9-5 against BC in the all-time series.
Following the 10-day break for final examinations, UConn hosts Harvard on Sunday, Dec. 14 at 2 p.m.