BOSTON COLLEGE TIES CLARKSON, 4-4
Allie Thunstrom nets two goals in first period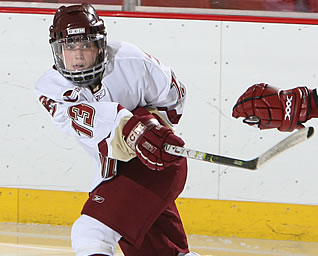 Allie Thunstrom scored two goals for the Eagles
Chestnut Hill, MA - The Boston College Women's Ice Hockey team ended their weekend with a tie against Clarkson 4-4.
BC took a four goal lead in the first period, but a goaltending change kept Clarkson in the game and they managed to grind away at the Eagles lead to end the game with a tie.
The Eagles scored early and often on Sunday, junior forward Alli Thunstrom netted her first goal of the season with BC shorthanded just 5:37 into the first frame. Fellow junior Kelli Stack followed with her second goal of the game on the BC powerplay at 11:07. The first period was dominated by BC with four goals on ten shots. Senior Lauren Wiedmeier scored BC's third goal and Thunstrom closed out the period with goal number two.
In the second period, the Golden Knights came out swinging netting two goals in less than five minutes. Clarkson switched goaltenders in the middle of the second period, but none of BC's 15 shots managed to find the back of the net. The teams entered the third period with the Eagles holding a two goal lead.
The third period saw BC's lead cut to one, when Molly Schaus (23 saves in the game, 49 for the series) saved Clarkson's initial shot but was unable to clear the puck as it slid around the crease and was slipped into the net by the Knights. Clarkson managed to tie the game at 11:38 with a 5-on-3 advantage.
The Eagles went into the overtime looking for win number two but settled for the tie to close out the weekend 1-0-1.
BC will open their Hockey East Conference Schedule against The University of New Hampshire Wednesday on the road and return to Kelley Rink Saturday October 11 to face Rensselaer at 4 p.m.