Saturday, October 4, 2008
BOSTON COLLEGE SHUTS OUT CLARKSON, 2-0
Molly Schaus posts first shutout of the season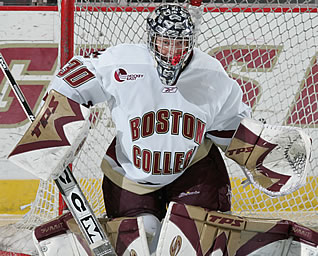 Molly Schaus made 26 saves for the Eagles
Chestnut Hill, MA - The Boston College Women's Ice Hockey team opened the 2008-2009 season with a shutout victory of Clarkson University Saturday at Kelley Rink, 2-0.
Junior goaltender Molly Schaus stopped all 26 of Clarkson's shots to record her first shutout of the season.
The first period saw the Eagles put six shots on Golden Knights goaltender Lauren Dahm, but were unable to capitalize on any of them. At the end of the first period, both teams headed to the locker rooms with the score tied at zero.
The women entered the second period looking for the opportunity to put some points on the board, and junior forward Kelli Stack recorded her first goal of the season 3:23 into the second frame. Junior alternate captain Tracy Johnson gathered the puck outside the face-off circle and put a slap shot on Dahm's pads, Stack picked up the rebound and slid it through the crease to put the Eagles up 1-0. Freshman forward Andrea Green recorded her first collegiate point on the assist.
BC's second goal of the game came courtesy of freshman forward Danielle Welch. It was Welch's first collegiate goal with the assists going to Stack and senior defensemen Stephanie Olchowski.
Despite a flood of penalties in the third period, Clarkson was unable to turn any of their power play opportunities.
The Eagles and Golden Knights face-off again, Sunday October 5 at 2 p.m. at Kelley Rink.