Saturday, November 22, 2008
BOSTON UNIVERSITY DOWNS BOSTON COLLEGE, 4-1
Jenelle Kohanchuk registers three-point game for Terriers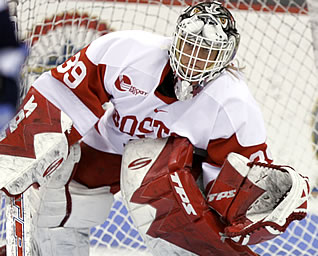 Allyse Wilcox made 24 saves for the Terriers
Chestnut Hill, MA - The Boston College women's ice hockey team lost their first home game of the season, dropping a 4-1 decision to Boston University Saturday afternoon at Kelley Rink.
The loss drops the Eagles to 2-3 for the month of November after an undefeated October campaign.
The Eagles fell in the hole early giving up two goals in the first period. The first goal courtesy of BU's Gina Kearns registered at 1:19 in the first frame to give the Terriers an early lead. BU padded their lead at 11:24 of the game with Jillian Kirchner giving BU the 2-0 lead from the corner of the crease.
The action of the first period lulled in the second frame, with BC having an 11-5 shot advantage but unable to push one through. With both teams held scoreless in the frame, the Terriers carried their two goal lead into the third period.
Junior forward Kelli Stack cut BU's lead down to one early in the third, netting her 13th goal of the season off a pass from linemate Allie Thunstrom across the BU net for the tap in. Defenseman Maggie Taverna was also credited with an assist.
BU fired back netting two more goals in the third period to give them a 4-1 lead and the win.
Stack's lone goal for the Eagles, a league-leading 13 keeps her current points streak alive extending it to 12 games in the 2008-2009 season. It also continues her scoring streak in league play with 16 goals and 9 assists for 25 points stretching back to February 17, 2008.
BC was 0-4 on the powerplay to BU's 1-6, both teams registered 25 shots on net.
The Eagles return to action with a pair of home games following Thanksgiving with a non-league match-up with Princeton on Friday November 28 at 12 p.m. and a Hockey East tilt with the Huskies of Northeastern on Sunday November 30 at 2 p.m.