Saturday, February 23, 2008
NEW HAMPSHIRE CLINCHES FIRST PLACE WITH 3-0 WIN AT PROVIDENCE
Freshman Kayley Hermann posts shutout with 27 saves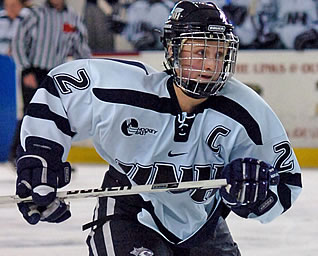 Martine Garland had two assists for the Wildcats
Providence, R.I. (February 23, 2008) - The Providence College women's ice hockey was defeated by No. 2 ranked New Hampshire, 3-0, in Hockey East action Saturday afternoon. UNH netted two goals late in the first period to take control and added a third in the third period to seal the win. With the loss, Providence now stands at 15-13-3 (10-6-2 HE) on the season, while New Hampshire improves to 27-3-1 (17-0-1 HE).
The Friars and Wildcats came out and played evenly matched hockey to begin the first period. The Friars' best scoring chance came at 10:28 when Mari Pehkonen (Tampere, Finland) earned a partial break-away as she was helping to kill off a UNH power play, but UNH's Kayley Herman made a blocker save. Later in the period, UNH was able to take a late first period lead when they scored two goals that were 25 seconds apart. The first goal came at the 16:17 mark when Sadie Wright-Ward was able to put home a rebound in front of PC netminder Danielle Ciarletta (Blaine, Minn.) Martine Garland, who took the original shot from the point, and Kacey Bellamy had the assists. The second Wildcat goal came at 16:42, as Steph Holmes jammed in a puck in front of the PC cage after receiving a pass from Angela Taylor, who had the assist along with Jenn Wakefield.
In the second period, both UNH and PC were kept off the scoreboard as the Friars were unable to take advantage of three power play opportunities, as UNH's Kayley Herman kept the Friars off the board. Providence managed to outshoot New Hampshire 12 shots to 11 in the period. New Hampshire added a goal midway through the third in the person of Jennifer Hitchcock to seal the win. Garland and Sam Faber assisted on the goal.
In net, Ciarletta finished with 24 saves for PC, while Herman stopped all 27 shots she faced to earn the win.
The Friars return to action tomorrow afternoon, as they complete their season series with New Hampshire. The game will begin at 2:00 p.m. at UNH's Whittemore Center in Durham, N.H.