Friday, February 22, 2008
THREE-GOAL THIRD PROPELS VERMONT PAST NORTHEASTERN, 4-1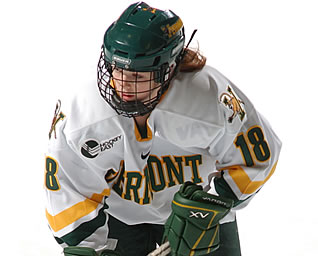 Sarah Smiddy had a goal and an assist for Vermont
BURLINGTON, Vt. - Celeste Doucet (Memramcook, New Brunswick) had a goal and two assists and linemate Sarah Smiddy (Grand Rapids, Mich.) scored one and set up another as Vermont topped Northeastern, 4-1, in a women's Hockey East game Friday evening at Gutterson Fieldhouse. Doucet and Smiddy helped trigger a deciding three-goal third period outburst for the Catamounts who had scored just once in their last six games.
"This was an entertaining game and a tremendous team effort," said Vermont coach Tim Bothwell. "Not just because we won, but the way we did it. We played great in the first period and bounced back after a dead spot in the second with a strong third. We showed resiliency and character against a real good team."
Vermont, which won only three times overall and just once in league play a year ago, improves to 6-24-1 overall and 2-15-1 in Hockey East. Northeastern falls to 6-22-3 and 5-12-1.
After a scoreless first period, UVM's Teddy Fortin (Brunswick, Maine) opened the scoring 1:20 into the second with her fifth of the season with assists to Doucet and Smiddy. The Huskies, who out-shot Vermont, 11-7, in the frame, bounced right back to tie it at 6:20 on Kristy Kehoe's 10th goal of the campaign.
The Catamounts took the lead for good 2:31 into the final stanza as freshman Sarah Ellins (Greeley, Colo.) rapped home a rebound of a shot by classmate Jul Sifers (New London, Conn.). Karen Sentoff (Liverpool, N.Y.) also assisted on the goal as Vermont then held off a third period Northeastern charge that included killing off a Huskies two-skater advantage.
Doucet put the game out of reach with a power play goal with 2:08 to play and Smiddy iced the Huskies with an empty net goal with seven seconds left.
The final shots were even at 27 apiece. Kristen Olychuck (Kelowna, B.C.) made 26 saves for UVM, including several good stops in the third period. Leah Sulyma finished with 23 saves for NU. Vermont went 1-for-3 on the power play and killed off all five Northeastern penalties.
The Catamounts host the Huskies Saturday at 4:00pm in their final home game of the 2007-08 season. Vermont's six seniors, Sentoff, Kristi Anderson (Naperville, Ill.), Caroline Donahue (Westwood, Mass.), Kate Lesniak (Buffalo, N.Y.), Stephanie Tewksbury (Marshfield, Mass.) and Frankie Williams (Aurora, Ill.), will be honored prior to the contest.
For ticket information, please contact the UVM Athletic Ticket Office at 1-866-4CAT-TIX or log on to uvmathletics.com. UVM students (with a valid ID) and all Rally's Round Up members are admitted free to all home women's hockey games.