CATAMOUNTS SKATE PAST BLACK BEARS, 5-1
Chelsea Furlani scores twice for Vermont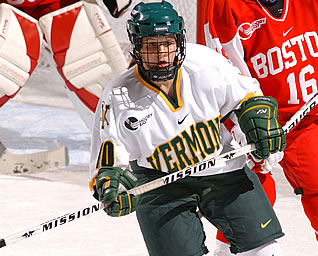 Chelsea Furlani scored two goals for the Catamounts
ORONO, Maine - The University of Maine Women's Ice Hockey team dropped a 5-1 decision Saturday afternoon against Vermont. Maine fell to 4-26-3 and 3-14-3 in Hockey East while Vermont improved to 7-25-1 and 3-16-1 in Hockey East.
In the first period, Maine got on the board first when Pam Patterson deflected a Jordan Colliton shot into the net. Her fourth goal of the season was scored with 8:45 remaining and was also assisted by Kim Meagher. Vermont tied it back up with 2:49 remaining when Chelsea Furlani scored. Melanie Greene assisted on Furlani's third of the season. Maine outshot the Catamounts 11-8 in the period.
In the second period, Vermont pulled ahead when Brittany Nelson got a goal at 4:04 into the period. Molly Morrison assisted on Nelson's fifth of the season. Vermont outshot the Black Bears in the period 16-6.
In the third period, Vemont put the game away. Sarah Smiddy scored the first of the period with 9:30 remaining. Her sixth goal of the season was assisted by Saleah Morrison. Chelsea Furlani got her second goal of the game with 4:03 remaining to make the score 4-1. Jackie Thode and Saleah Morrison assisted on Furlani's fourth of the season. Kate Lesniak finished off the scoring with a goal with 1:53 remaining. Caroline Donahue assisted on Lesniak's sixth of the season. The Catamounts outshot the Black Bears in the period 10-4.
Maine goaltender Genevieve Turgeon totalled 29 saves in the game. Vermont goaltender Kristen Olychuck totalled 20 saves. Turgeon went to 4-18-3 on the season while Olychuck went to 7-20-1. Maine was 1-for-5 on the power play while Vermont went 0-for-5.
Maine will face Vermont again tomorrow afternoon for their final game of the season at 2pm.