Friday, February 22, 2008
THUNSTROM, SCHAUS LEAD EAGLES PAST TERRIERS, 4-0
Allie Thunstrom scores two goals; Molly Schaus posts shutout with 21 saves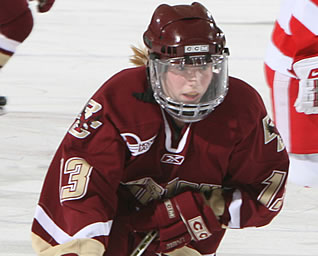 Allie Thunstrom scored two goals for Boston College
BOSTON, Mass. - The Boston University women's ice hockey team dropped a 4-0 decision to Boston College Friday night in the opening game of a home-and-home series this weekend, scoring three times in the third period. It was the first time the Terriers have been shutout since a 5-0 decision against St. Cloud State on Nov. 16.
Boston University's (12-16-3, 8-9-1) offense was unable to find its footing, failing to take advantage of seven power-play opportunities and placing only nine shots on goal while skating a man up. Special teams further proved to be the Terriers' weakness, as the team surrendered two power-play goals and one shorthanded goal to the Eagles.
Sophomore Kelli Stack scored the Eagles' first goal at 5:15 of the first period off an assist from junior Meghan Fardelmann. After Stack recovered a rebounded shot off junior Allyse Wilcox, the BC forward skated behind the net and came around the right side, wristing a shot over Wilcox's left shoulder for the score.
Sophomore Allie Thunstrom opened the three-goal third period with a shorthanded goal at 4:47. With the Terriers on the power play, junior Maggie Taverna slid a pass to Thunstrom while trying to clear it out of the BC zone. Thunstrom received the pass and slipped past the Terrier defenders to take Wilcox on one-on-one, scoring her first of two goals on the evening.
Thunstrom struck again less than two minutes late, netting the puck off an assist from senior Erin Blood at 6:28 of the third period while the Eagles were on the power play.
Fardelmann scored BC's final goal, a power-play score, at 13:36 of the third period off assists from senior captain Deb Spillane and Stack.
While presently sitting one point behind the Eagles in the standings, the Terriers get an opportunity for revenge tomorrow night as they face BC at 7:00 p.m. at Conte Forum. BU will look to reverse history, as the Terriers are winless in four tries at the Eagles' home rink.