2017-18 New England Division I Women's Hockey All-Stars & Awards
Earning New England Division I Player of the Year honors is Boston College freshman forward Daryl Watts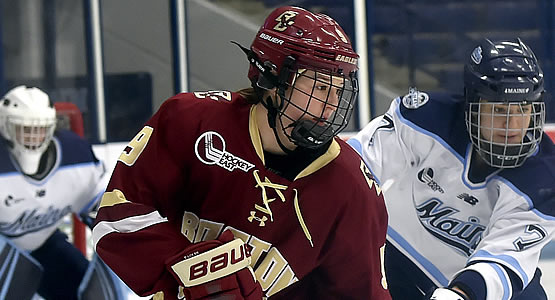 Earning New England Division I Player of the Year honors is Boston College freshman forward Daryl Watts
BOSTON - The New England Hockey Writers Division I All-Star teams and awards have been finalized after tallying votes from all Division I coaches and respective media outlets throughout New England. This year's banquet will be held on Wednesday, April 11 at the Prince Restaurant in Saugus, Mass. The banquet will start at 6 p.m. All awards and All-Star teams will be presented at the gala. All coaches, student-athletes, family members and friends are encouraged to attend Wednesday's banquet. Please contact Carolyn Stacey or Meghan Pflieger at (781) 245-2122 or by email (intern@hockeyeastonline.com) for information on attending this event. Cost is $40 per person.
Earning New England Division I Player of the Year honors is Boston College freshman forward Daryl Watts (Toronto, Ontario). Watts led all NCAA Division I scorers in goals and points with a line of 42-40-82 in 38 games. The CCM/AHCA All-American was the first freshman to receive the Patty Kazmaier Award as the nation's best Division I hockey player. She was also named national Rookie of the Year by the Women's Hockey Commissioners Association.
This year's New England Women's Division I Coach of the Year is Richard Reichenbach of Maine, who was also chosen Hockey East Coach of the Year. Reichenbach led Maine to its first-ever Hockey East playoff win and playoff series win as the Black Bears defeated Boston University in the Hockey East Quarterfinals to advance to the championship round in Boston. On the year, Maine was 19-14-5 on the year, after a third place finish in Hockey East.
In total, the Division I women's All-Star team consists of two goalies, four defensemen, and six forwards.
The forwards of the All-Star team are Boston University's Victoria Bach, a Patty Kazmaier finalist, and Rebecca Leslie. Joining Watts from Boston College is sophomore Caitrin Lonergan, while Providence's Maureen Murphy and Teresa Vanisova of Maine are also New England All-Stars.
Four schools have representatives on defense, including Boston University's Abby Cook, Lauren Kelly of Northeastern, Tori Ann Miano of Boston College and Yale's Mallory Souliotis.
This year's all-star goaltenders are Annie Belanger of Connecticut and Boston College's Katie Burt.