Monday, February 26, 2018
Weekly Release: 2018 Women's Hockey East Season Culminates at Matthews Arena
16th Annual Championship Weekend Begins Saturday at Northeastern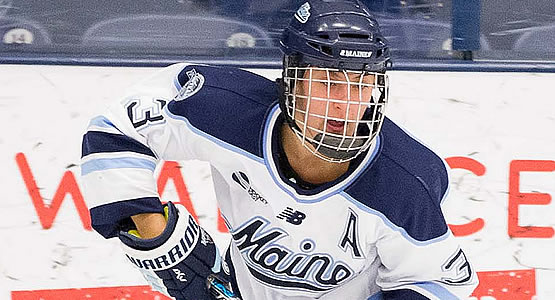 Women's Hockey East Player of the Week Brooke Stacey of Maine
AROUND HOCKEY EAST: The 16th annual Women's Hockey East championship weekend kicks off March 3 at Northeastern's Matthews Arena. The semifinals will take place at 1:30pm and 4:30pm. The second semifinal can be seen live on NESNplus while the first game can be seen on tape delay at 10pm. Sunday's championship game can be seen live on NESNplus at 1:30pm ... Hockey East regular-season champion and No. 1 Boston College (30-3-3/19-2-3 HEA) will take on No. 7 UConn (15-13-9, 7-11-6 HEA) on Saturday at 1:30 p.m. This is the eighth straight season Boston College has moved onto the semifinals and the Eagles have advanced to the championship game each of the last four years, including winning the 2016 and 2017 WHEA Tournament titles. UConn moves onto the semifinal for the eighth time in program history and is the first seven-seed to advance to the semifinals in tournament history. The Huskies have appeared in the championship contest twice previously. During the regular season, Boston College took a 1-0-2 record against UConn ... No. 3 Maine (19-13-5, 11-9-4 HEA) draws No. 4 Northeastern (17-16-3, 11-11-2 HEA) on March 3 at 4:30 p.m. The Black Bears skated to a 2-1-0 mark over Huskies in the season series. Maine earned its first two Women's Hockey East Tournament wins in program history to advance out of the quarterfinals and last appeared in the semifinals in 2006 when the tournament consisted of just four teams. Northeastern looks to return to the WHEA championship game for the second time in as many years, after skating in the 2017 title game. The Huskies have been in three championship contests in program history (2011, 2013, 2017) but has yet to lay claim to the Bertagna Trophy ... Fans can watch the second semifinal live on NESNplus on Saturday, March 3 beginning at 4:30 p.m. while the first semifinal game, taking place the same day at 1:30 p.m., will air on NESNplus on a tape delay at 10 p.m. The following day, Sunday, March 4, NESNplus will feature both semifinal games in two-hour reairs beginning at 9:30 a.m. The 2018 Women's Hockey East Championship will then air on NESNplus live at 1:30 p.m. and be shown twice on NESN as two-hour reairs ... Adult tickets to the Women's Hockey East championship are $10 and can be purchased online at Tickets.GoNU.com or by calling 617-373-4700. Tickets for groups of 10 or more for a single day will be $5 per person per day and group orders can be placed over the phone at 617-373-4700 ... Tickets for seniors (over 60), children (under 12) will be available only at Matthews Arena on the day of the games for $5 per day. Students from any of the nine institutions in the women's league will receive free admission with a valid student ID. One ticket for Saturday is good for both semifinal contests.
---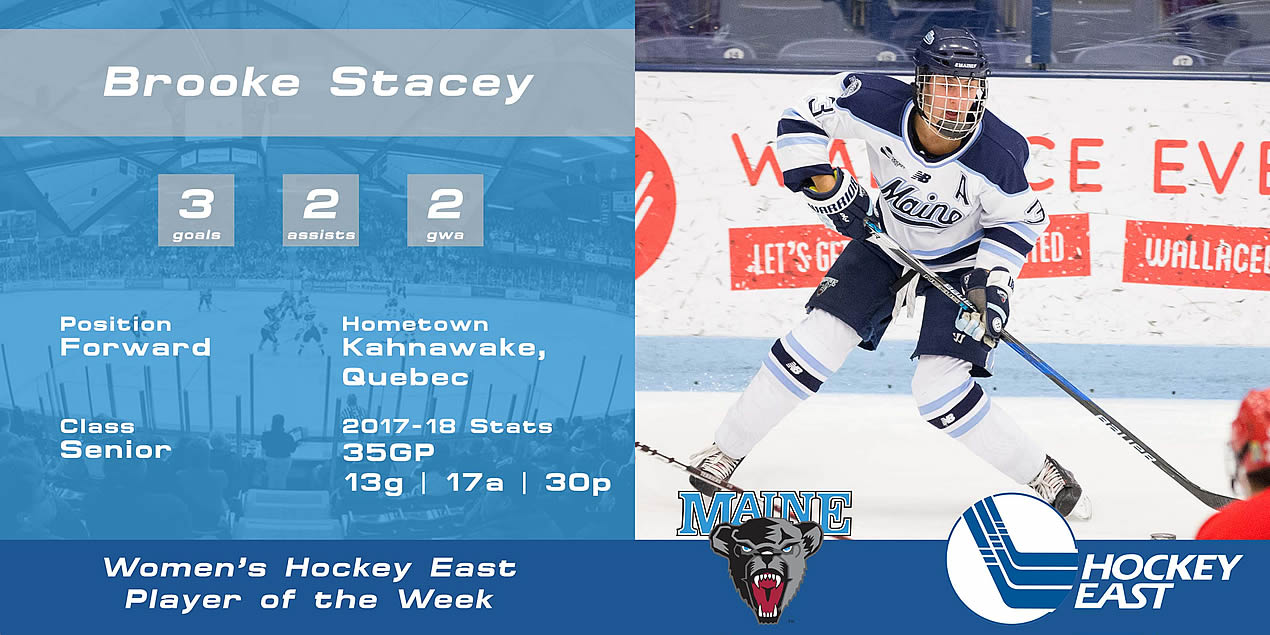 BROOKE STACEY - MAINE

In the third period of a decisive Game 3 in the Women's Hockey East Quarterfinals, Brooke Stacey (Kahawake, Que.) netted a natural hat trick in the span of seven minutes to lift the Black Bears to their first-ever playoff series victory. She single-handedly erased a three-goal deficit to force overtime before setting up the winning goal as part of a fourpoint day. It was the first hat trick of Stacey's career.
---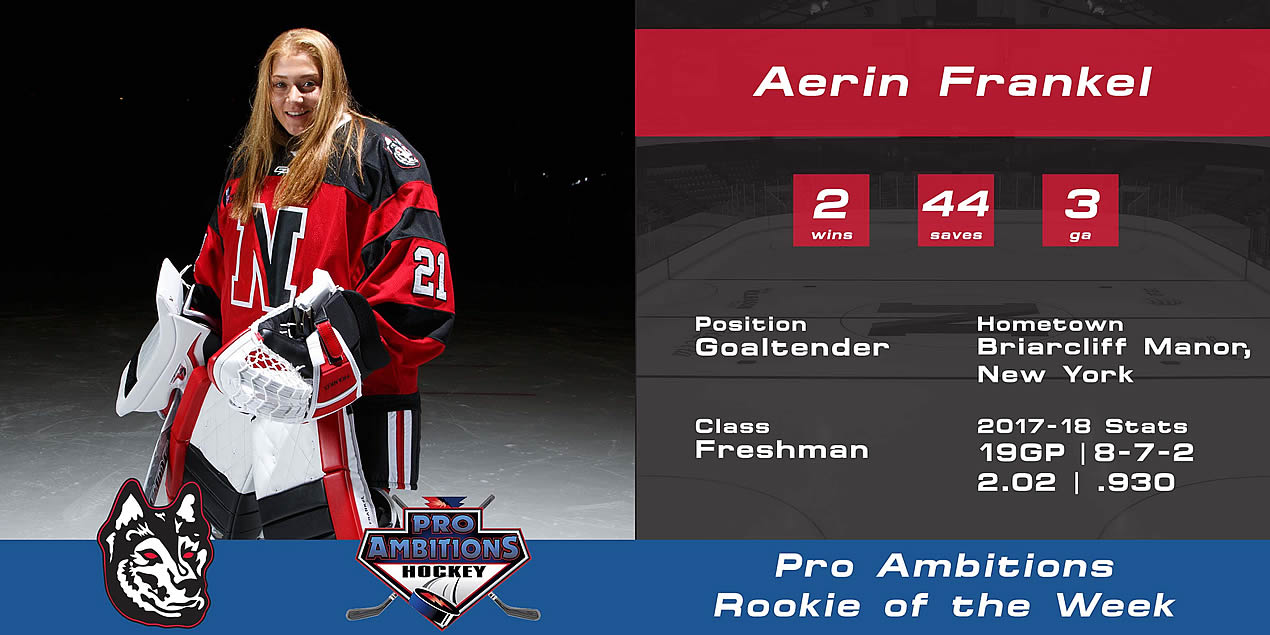 AERIN FRANKEL - NORTHEASTERN

Aerin Frankel (Briarcliff Manor, N.Y.), in her collegiate postseason debut, backstopped the Huskies to a sweep of fifth-seeded New Hampshire. The rookie netminder stopped 44 of 47 shots in two games to push Northeastern into the WHEA semifinals.
---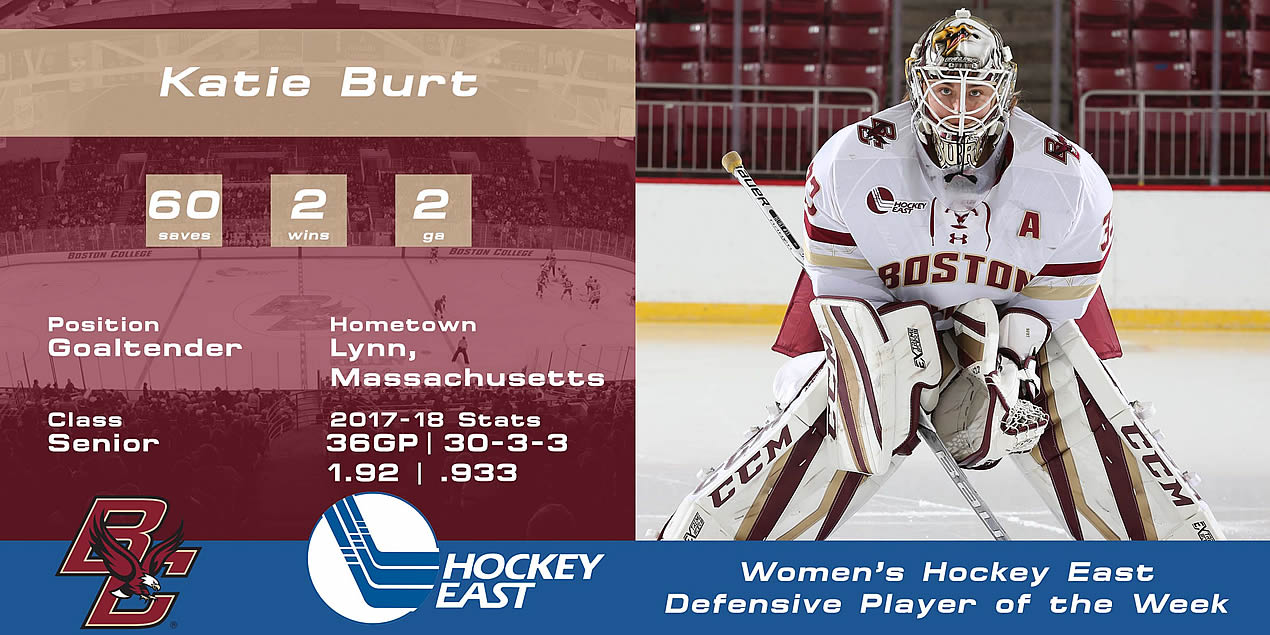 KATIE BURT - BOSTON COLLEGE

Katie Burt (Lynn, Mass.) allowed just two goals and made 60 saves in a sweep of Vermont in the WHEA Quarterfinals. Earned her 30th win of the year on Saturday and pushed her WHEA Tournament winning streak to 10 games dating back to 2016.
---
HOCKEY EAST WEEKLY TOP PERFORMERS
Makenna Newkirk, BC (Jr., F; Scottsdale, Ariz.) Scored two power-play tallies and one game-winning goal as part of a league-leading three-goal weekend to help BC to a sweep of Vermont in the WHEA Quarterfinals. In the process, she set career-high single-season records with 23 goals and 60 points on the year.
Michelle Weis, ME (Fr., F; Charlottenlund, Denmark) Dished out two assists to help spark an incredible comefrom- behind win against Boston University in Game 3 of the WHEA Quarterfinals.
Carly Jackson, ME (So., G; Amherst, N.S.) Backboned Maine to the first two WHEA Tournament wins in program history, kicking out 63 shots in the 2-1 series victory over BU.
---