Monday, February 12, 2018
Weekly Release: Playoff Seeding Takes Shape Entering Final Week of Play
Final Two Playoff Spots Remain Up For Grabs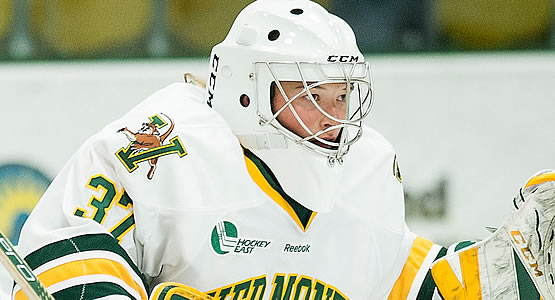 Women's Hockey East Player of the Week Sydney Scobee of Vermont
AROUND HOCKEY EAST: The Women's Hockey East playoff picture began to take shape over the weekend, as five of the nine playoff positions have been secured by Boston College, who will be the top seed, Maine, Providence, New Hampshire, and Northeastern ... Vermont's Sydney Scobee (Minnetrista, Minn.) posted back-to-back shutouts for the Catamounts in a two-game set with UConn at home. Scobee stopped all 68 shots she saw, helping to vault the Catamounts into sixth place in the Army ROTC Women's Hockey East standings ... Maine and Providence squared off in a two-game set of the second and third ranked programs in WHEA. The Black Bears and Friars needed overtime in both contests, skating to a 1-1 draw Saturday evening before Maureen Murphy (Buffalo, N.Y.) scored twice, including the game-winning goal in overtime in Sunday's 2-1 win. ... Boston College and Boston University advanced to the 40th annual Women's Beanpot title game on Tuesday, downing Northeastern and Harvard by scores of 5-2 and 3-2, respectively. The Eagles' Makenna Newkirk (Scottsdale, Ariz.) netted a hat trick while the Terrier's Victoria Bach (Milton, Ont.) potted a pair to lift their teams to victory ... New Hampshire took an important 2-1 win over Boston College as the Wildcats look to secure home ice in the WHEA quarterfinals. Carlee Turner (Scottsdale, Ariz.) scored the game-winner for UNH ... Northeastern secured a final seeding between 3-5 with a 4-3 come-from-behind victory at Merrimack at Saturday afternoon. The Huskies will host the 2018 Women's Hockey East Championship weekend at Matthews Arena on March 3-4.
---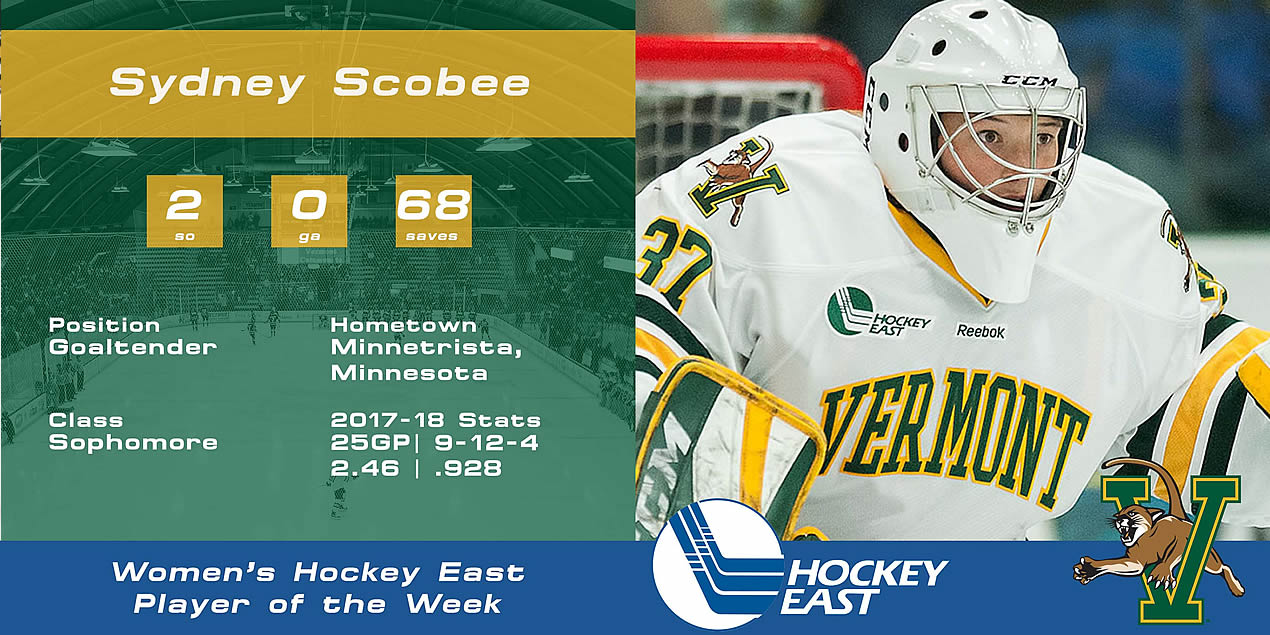 SYDNEY SCOBEE - VERMONT

Sydney Scobee (Minnetrista, Minn.) posted back-to-back shutouts at home against UConn, backstopping the Catamounts to a 1-0 win Friday and a 0-0 draw Saturday. She made 68 saves across 125:00 of play, giving Vermont a crucial three points in the Women's Hockey East standings and bolstering her squad's chances for a playoff position.
---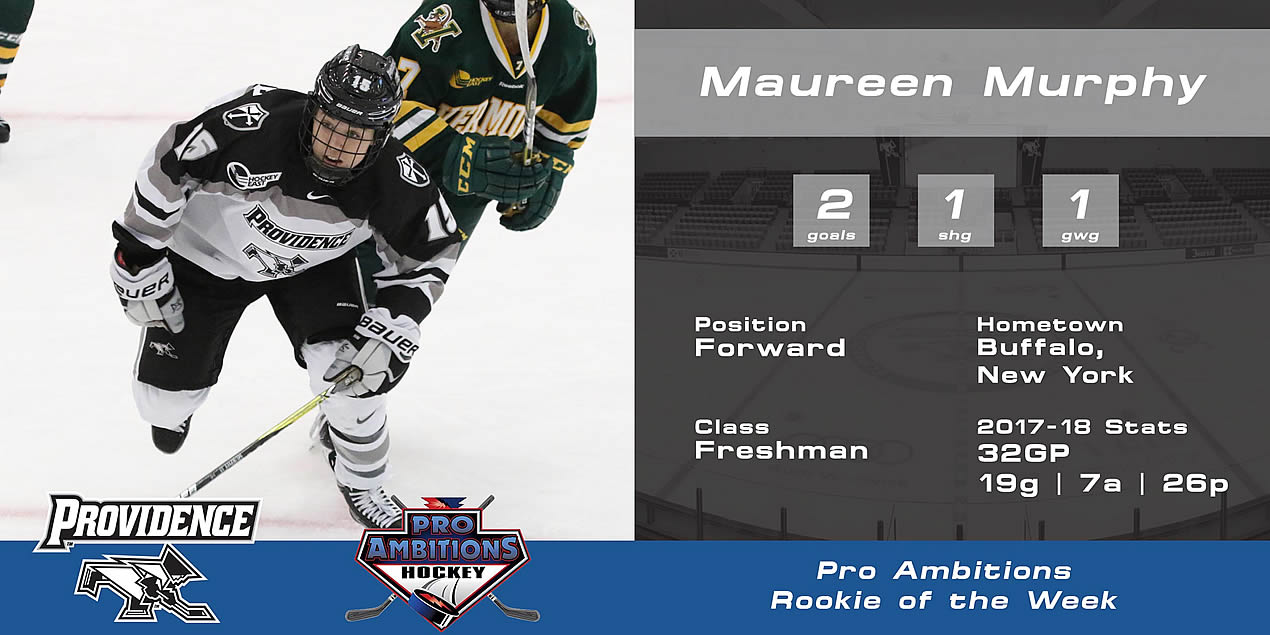 MAUREEN MURPHY - PROVIDENCE

Maureen Murphy (Buffalo, N.Y.) snapped a two-game pointless streak with a twogoal performance Sunday against Maine. She scored a shorthanded tally and the overtime game-winner in a 2-1 victory that secured home ice in the WHEA quarterfinals for the Friars.
---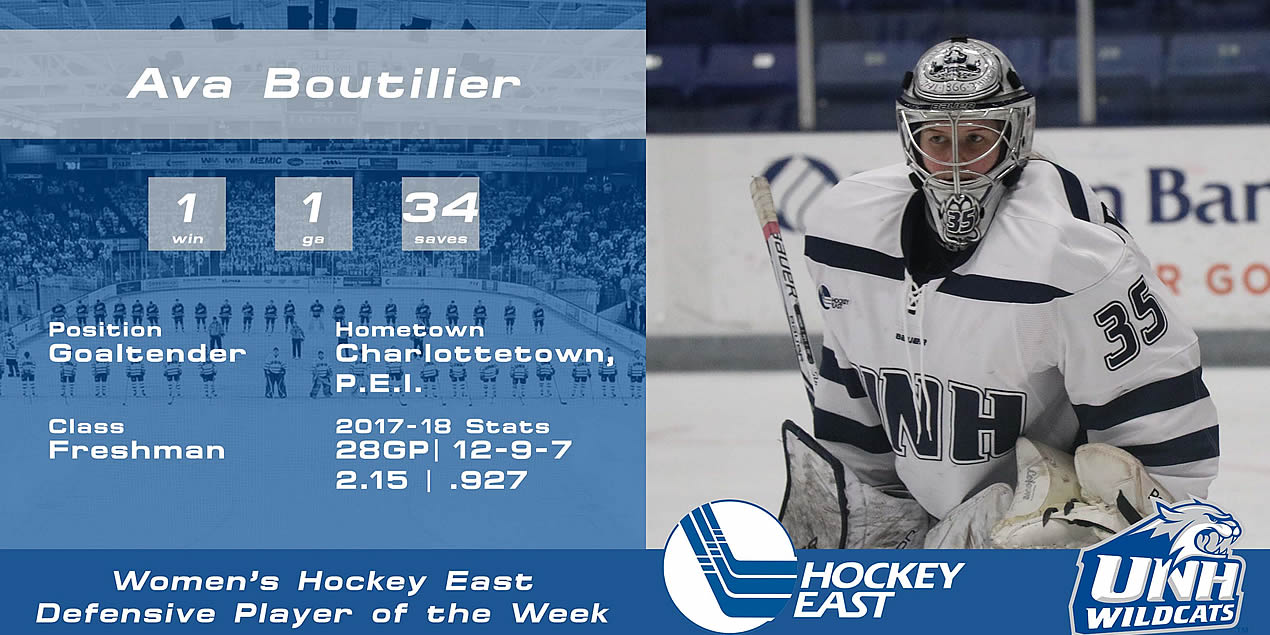 AVA BOUTILIER - NEW HAMPSHIRE

Ava Boutilier (Charlottetown, P.E.I.) made 34 saves in a road outing against the #3 Boston College Eagles. The rookie allowed just one goal to the top offense in the conference that averages over four markers per game to backbone the Wildcats to a 2-1 win. She stopped 15 shots in the third period alone to retain the one-goal margin.
---
HOCKEY EAST WEEKLY TOP PERFORMERS
Makenna Newkirk, BC (Jr., F; Scottsdale, Ariz.) Tie for the national lead with three goals last weekend, scoring a hat trick Tuesday in the first round of the Beanpot to secure a 5-2 win over Northeastern.
Daryl Watts, BC (Fr., F; Toronto, Ontario) Led national freshman with three goals last week, potting two in the Beanpot and scored the lone goal for the Eagles in a 2-1 loss to New Hampshire on Friday.
Victoria Bach, BU (Sr., F; Milton, Ont.) Scored twice and assisted on the game-winning strike in a 3-2 win over Harvard in the 40th annual Beanpot semifinals. She finished with a plus-one rating and fired six shots on goal.
Jesse Compher, BU (Fr., F; Northbrook, Ill.) Found the back of the net for the tally that lifted the Terriers to a 3-2 win in the Beanpot semifinals against Harvard. She won 71.4% of her faceoffs in the outing as well.
Corinne Schroeder, BU (Fr., G; Elm Creek, Man.) Stopped 24 of 26 shots she saw from Harvard, including all eight in the third period, to backstop her squad into the Beanpot title contest.
Annie Belanger, BU (Sr., G; Sherbrooke, Que.) Allowed just one goal across 123:04 of play in a 0-1-1 weekend at Vermont. She stopped 49 shots in the two outings, including her third shutout of the season on Saturday.
Catherine Tufts, ME (Sr., F; Church Point, N.S.) Potted two goals in a 0-1-1 weekend at Providence, Maine's only two goals in the series.
Anna Zikova, ME (Fr., D; Cesky Tesin, Czech Republic) Dished out one assist Friday and blocked four shots across two outings.
Carly Jackson, ME (So., G; Amherst, N.S.) Turned away 57 shots in two games at Providence last weekend, helping Maine secure home ice in the quarterfinals.
Mikyla Grant-Mentis, MC (So., F; Brampton, Ont.) Picked up two points in a 4-3 setback to Northeastern on Saturday, scoring the second goal of the game midway through the first period. She chipped in with a helper on the powerplay as well.
Paige Sorensen, MC (Jr., D; Plymouth, Minn.) Had a power-play goal and an assist in a 4-3 loss to Northeastern Saturday.
Lauren Kelly, NU (Sr., D; Watertown, Mass.) Netted her 10th and 11th goals of the season Saturday, helping spark a come-from-behind win at Merrimack after the Huskies fell down, 3-0. Both markers were on the powerplay and Kelly currently leads the nation among blueliners with eight powerplay strikes.
Carlee Turner, UNH (So., F; Scottsdale, Ariz.) In a 2-1 victory at #3 Boston College on Friday afternoon, she struck for the game-winning goal to give the Wildcats their second victory over a ranked opponent this season.
Madison Myers, PC (Jr., G; Colchester, Vt.) Allowed just two goals to #9 Maine in a 1-0-1 weekend. She stopped 59 shots in the two outings, including her 2,000th career save on Saturday.
---