Thursday, December 7, 2017
Women's Hockey East Weekend Preview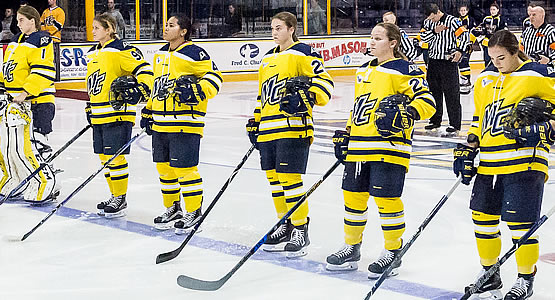 Merrimack faces off against Boston College in a home-and-home deries this weekend.
Boston University vs. Yale/#8 Providence - Thu. 12/7 at Yale, Sat. 12/9 at PC
- Boston University (6-8-3, 3-6-3 WHEA), along with Hockey East Player of the Month and Women's Hockey Commissioners Association National Player of the Month, Victoria Bach (Milton, Ont.), will be on the road for two games to wrap up the first half of the season. The Terriers are then off until Dec. 30-31.
- BU faces ECAC Hockey foe Yale on Thursday, carrying a 3-1-1 record against the Bulldogs. The Terriers are 0-1-1 at Yale all-time, but are currently 3-1-2 in road games since Oct. 29, losing only to #1 Wisconsin.
- The Terriers earned one point in the Battle of Commonwealth Ave last weekend, going 0-1-1. Rebecca Leslie (Ottawa, Ont.) extended her point streak (9g, 11a) to eight games with three goals and an assist in the set and currently holds the nation's longest active multiple-point streak at seven straight games.
- Providence (10-5-4, 7-1-2 WHEA) went 1-0-1 last weekend against Hockey East foe UConn, highlighted by Pro Ambitions Rookie of the Week Maureen Murphy (Buffalo, N.Y.)'s three points (2g, 1a) on Saturday. She currently leads the team in goals scored with 12 tallies.

Merrimack vs. #2 Boston College - Fri. 12/8 at BC, Sat. 12/9 at MC
- The Eagles (13-1-3, 7-0-3 WHEA) became the first WHEA team to eclipse the 200-leauge-win milestone this past weekend after defeating BU, 4-2. Boston College and Merrimack will now skate against each other three consecutive times, clashing twice to end the first half of the season before resuming at Merrimack on Jan. 2.
- Caitrin Lonergan (Roslindale, Mass.) was recognized for her standout effort in her eight-point week, earning Women's Hockey East Player of the Week for the second time this season. Lonergan posted a career-high five points (3g, 2a) in a 7-3 win against Northeastern and tacked on three more points (3a) against Boston University. Teammate Daryl Watts (Toronto, Ont.) was recently tabbed National Rookie of the Month for the second time this season after recording 19 points (7g, 12a) in November.
- Merrimack (6-10-3, 1-6-2 WHEA) comes off of a weekend of rest after last picking up two non-conference wins against Princeton. Samantha Ridgewell (Outlook, Sask.), was named Hockey East Defensive Player of the Week (Nov. 27) for her efforts against the Tigers, allowing just one goal in a pair of outings. In the first game against Princeton, the goaltender made 31 save in a 1-0 shutout. The following day she made 23 saves as the Warriors took the win, 4-1.

New Hampshire vs. UConn/Yale - Fri. 12/8 at UConn, Sun. 12/10 at UNH
- The UConn Huskies (4-6-7, 0-5-4 WHEA) went 0-1-1 this past weekend against #10 Providence. Senior Leah Lum (Richmond, B.C.) led her team to a draw with the nationally-ranked Friars, scoring her fifth goal of the season in Friday's 1-1 stalemate. The Huskies have tied four of their last five games and six of their last nine and are looking to snap a nine-game winless streak dating back to Nov. 3
- New Hampshire (7-6-5, 5-3-3 WHEA) heads to Connecticut on Friday to face UConn for the first time this season before hosting Yale on Sunday. The 'Cats recently split a weekend series with Northeastern, beating the Huskies in overtime on Friday, 2-1, but fell short on Sunday, 5-3. Meghara McManus (Milton, Mass.), was a contributor in Sunday's game, recording two of the three goals scored by New Hampshire. Senior Carlee Turner (Grand Prairie, Alta.) assisted on all three goals and now leads her team in assists (9).
- Yale will play two Hockey East schools this weekend, hosting Boston University on Thursday and then traveling to New Hampshire for a single game on Sunday, The Bulldogs are 3-7-4 overall and this week will be the first time they face a Women's Hockey East opponent this season.

Maine vs. Vermont - Sat. 12/9 at UVM
- Maine (11-6-3, 5-3-2 WHEA) ventures to Vermont (5-11-4, 3-7-2 WHEA) for their third game in the season series, following two games last weekend at Alfond Arena. The Black Bears are riding a five-game unbeaten streak (3-0-2) dating back to Nov. 19 against Northeastern. The Black Bears sit at 5-3-2 in WHEA play with 14 conference games remaining. The program has not won more than nine games since 2011-12, when they claimed 11 victories, a program-best.
- With only Women's Hockey East games left on the schedule, Maine's next four opponents have a combined record of 7-24-11 in league play while its final three opponents carry a 19-4-8 mark within the conference.