Sunday, February 26, 2017
2017 Women's Hockey East Semifinals Decided
15th Annual Championship to Take Place at BU's Walter Brown Arena March 4-5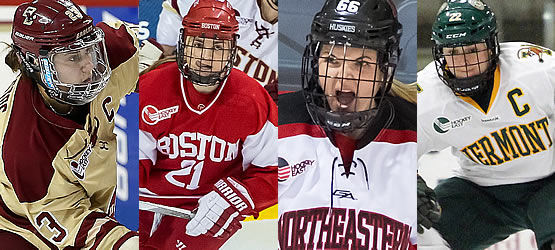 15th Annual Championship to Take Place at BU's Walter Brown Arena March 4-5
WAKEFIELD, Mass. - The Hockey East Association has announced the pairings for the semifinal round of the 2017 Women's Hockey East Tournament. No.1 Boston College and No. 5 Vermont and No. 2 Northeastern and No. 3 Boston University will square off at Walter Brown Arena, Saturday, March 4 in the 15th annual Women's Hockey East championship weekend.
Hockey East regular-season champion and No. 1 Boston College (25-5-5/16-4-3 HEA) will skate against No. 5 Vermont (15-13-9/9-8-7 HEA) at Walter Brown Arena at 1:30pm on Saturday, March 4. This is the fourth straight season Boston College has earned the top seed and the Eagles have advanced to the championship game each of the last three years, including winning the 2016 WHEA Tournament title. Vermont is back in the semifinals for the first time since 2014, when the Catamounts were downed by the Eagles in Hyannis. This will be the first postseason matchup since that outing. In 2016-17, Boston College swept Vermont, 3-0-0, including two road contests Jan. 20-21. In those three outings, the Eagles outscored the Catamounts 13-3. In the quarterfinals, Boston College shut out Merrimack, 4-0 and 1-0, to advance to the semifinals, while Vermont took Providence to three games and won the final two outings by a combined score of 10-3 after dropping a 5-4 decision to open the series.
No. 2 Northeastern (21-11-3/14-8-2 HEA) draws No. 3 Boston University (19-11-6/12-8-4 HEA) at the home of the Terriers for the 4:30 p.m. start time. The tilt will be a rematch of the 2016 WHEA semifinal between the Huskies and Terriers, a game that saw Boston University advance to its fifth-straight WHEA title game. The two programs clashed as recently as Feb. 17 when the Terriers took a 7-2 win in the final game of the regular season for the Huskies. All time in the Women's Hockey East Tournament, Boston University holds a 5-1 record over Northeastern, including a 3-1 mark in semifinal action. Northeastern advanced past UConn in straight games, taking a 6-2 series opener and a 3-2 overtime tilt in game two. Boston University needed three games to move past New Hampshire in their quarterfinal series, falling, 4-2, before earning a pair of one-goal victories, 4-3 and 3-2. The Terriers seek a league-record sixth Bertagna Trophy, while Northeastern has not yet captured the WHEA Tournament title.
The 15th annual Women's Hockey East Tournament championship takes place this weekend, Saturday, March 4, and Sunday, March 5, at Boston University's Walter Brown Arena. No. 1 Boston College will square off with No. 5 Vermont Saturday at 1:30pm, while No. 2 Northeastern and No. 3 Boston University take the ice at 4:30pm. The winners advance to Sunday's championship tilt at 1:30pm. Fans can purchase tickets online at Ticketmaster.com or by calling 800-745-3000 and start at just five dollars.