Monday, February 20, 2017
Weekly Release: Quarterfinals Set to Begin This Weekend In 15th Annual Tournament
Merrimack Makes Playoff Debut at BC; NU, BU, PC Also Set to Host First Round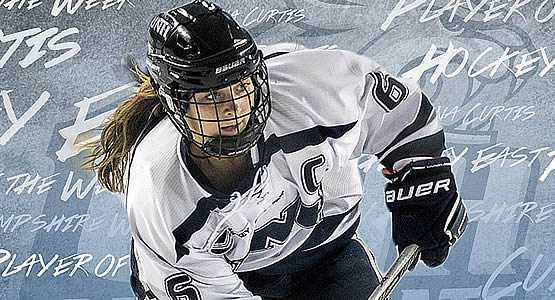 Warrior Hockey Player of the Week Jonna Curtis of New Hampshire
AROUND HOCKEY EAST: The best-of-three quarterfinal round of the 2017 Women's Hockey East championship tournament begins Thursday (Feb. 23). No. 8 Merrimack makes its playoff debut in just its second season as a varsity program, traveling to No. 1 Boston College on Thursday. No. 2 Northeastern draws No. 7 UConn to Matthews Arena, while No. 3 Boston University welcomes No. 6 New Hampshire to Walter Brown Arena, home of the 2017 WHEA Championship. No. 4 Providence earns hosting duties for the first time since 2012, entertaining No. 5 Vermont at Schneider Arena ... This is the fourth straight season Boston College has earned the top seed and the Eagles have advanced to the championship game each of the last three years, including winning the 2016 WHEA Tournament title. Merrimack more than doubled their overall and conference win total from last season to earn a playoff berth ... Northeastern and UConn have met three times previously in the Women's Hockey East Tournament, all in the quarterfinal round. The most recent meeting between the Huskies and the Huskies came in 2014, as Northeastern advanced past UConn, 2-1. Last year, Northeastern and UConn both advanced to the semifinals ... Boston University seeks its sixth title in program history while New Hampshire looks for its fifth, and first since 2009. The programs have met three times previously in the playoffs, with BU holding a 2-1 series advantage, including a 1-0 record in the quarterfinals ... Providence took the season series with Vermont, 1-0-2, as the last two times the teams met ended in stalemates. The quarterfinal series will be the first playoff meeting between the two squads ... Tickets to the 15th annual Women's Hockey East championship weekend, set for March 4 and 5 at Boston University's Walter Brown Arena, are on sale now. To purchase tickets, please call TicketMaster at 1-800-745-3000 or visit the Agganis Arena Box office.
---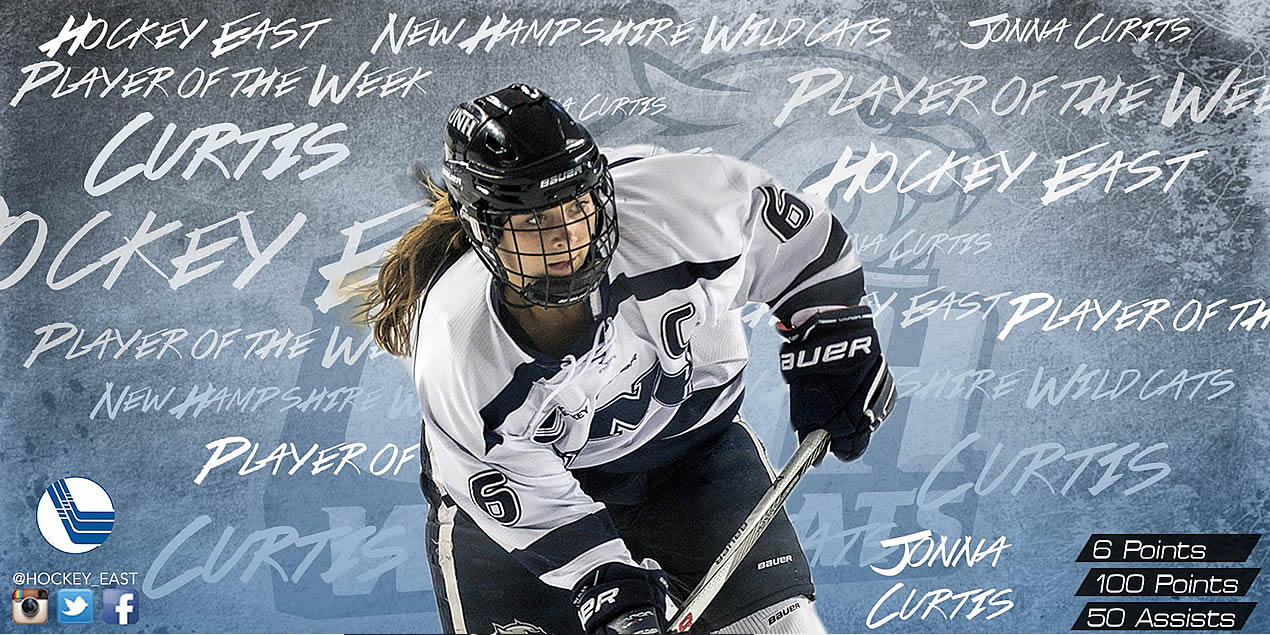 JONNA CURTIS - NEW HAMPSHIRE

Jonna Curtis (Sr., F; Elk River, Minn.) tallied six points (3g, 3a) in a weekend sweep of UConn, reaching 100 career points on Friday and 50 career assists on Saturday. Curtis also netted her 20th goal of the season in Saturday's win, while helping UNH to secure the sixth seed in the Women's Hockey East Tournament.
---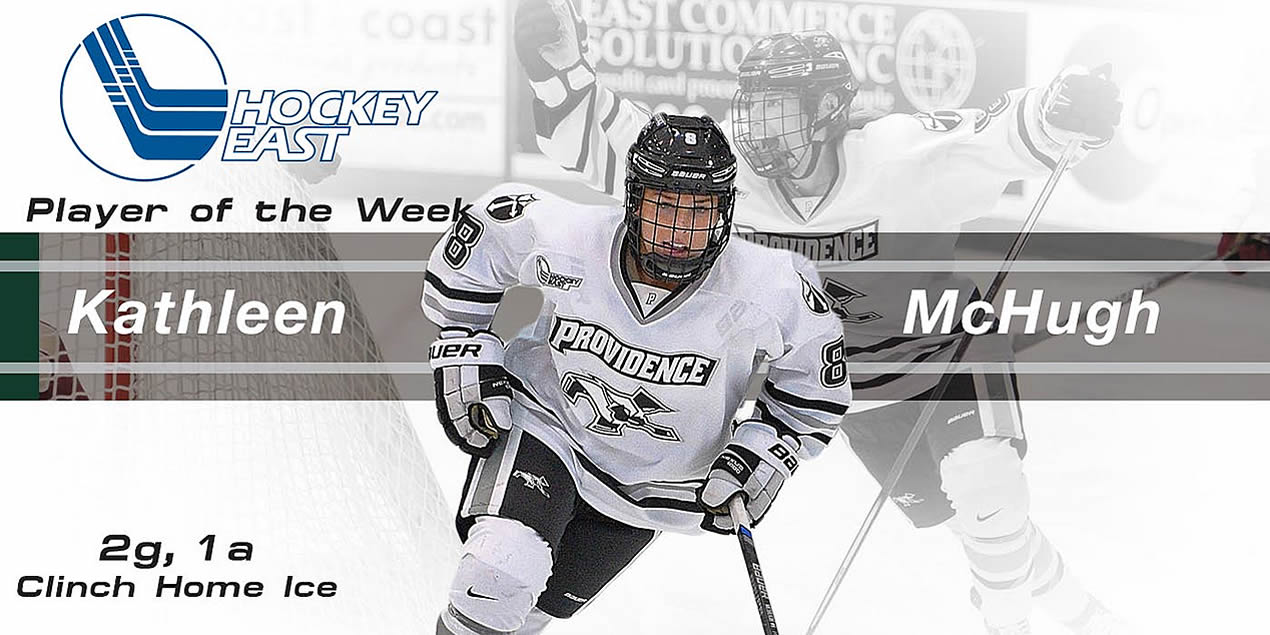 KATHLEEN MCHUGH - PROVIDENCE

Kathleen McHugh (Fr., F; Billerica, Mass.) recorded two goals and one assist on the weekend, helping Providence to split with Boston College and earn the fourth seed in the playoffs. Her one assist came less than a minute into Saturday's home win over the Eagles.
---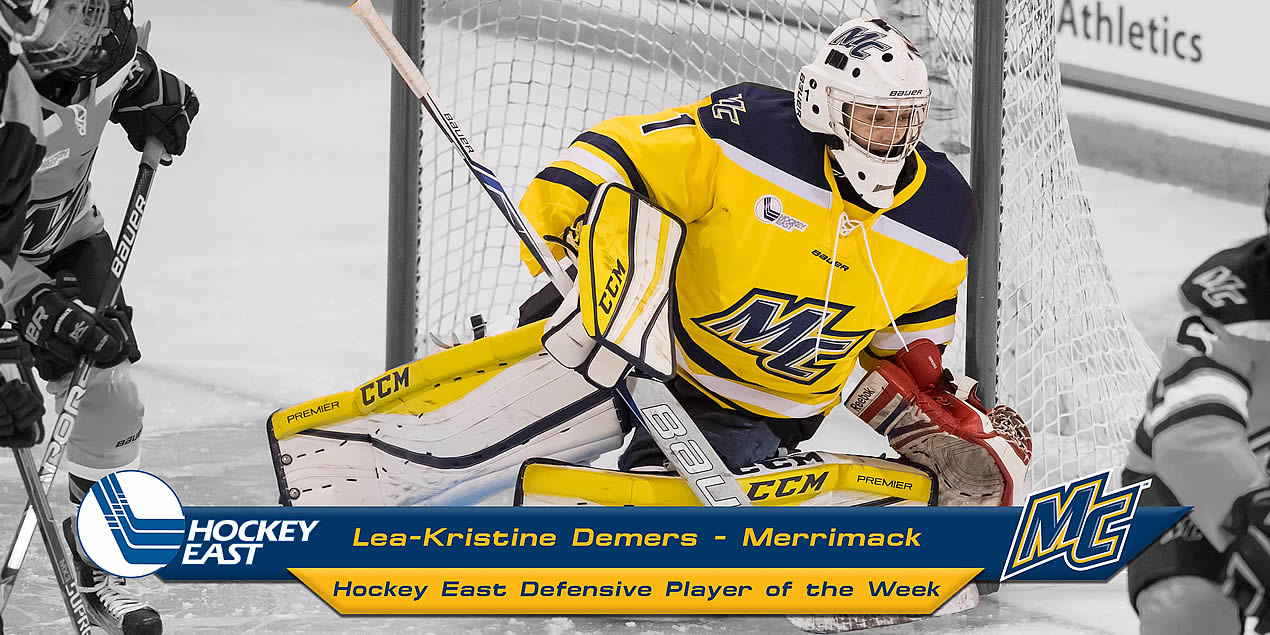 LEA-KRISTINE DEMERS - MERRIMACK

Lea-Kristine Demers (Fr., G; Repentigny, Que.) Kicked out 73 shots over the final two regular season games, including 48 on Saturday to backstop a 3-2 comeback win, helping Merrimack to the program's first-ever Hockey East Playoff berth.
---
HOCKEY EAST WEEKLY TOP PERFORMERS
Delaney Belinskas, BC (Fr., F; Port Orange, Fla.) Recorded one goal and two assists in a two-game series against Providence last weekend. Her goal on Saturday was her 15th of the season and sixth power-play goal.
Caitrin Lonergan (Fr., F; Roslindale, Mass.) Netted her 13th and 14th goals of the season on Sunday for her first career multi-goal game.
Victoria Hanson, BU (Sr., G; Stoughton, Mass.) Posted her second career shutout on Sunday with a 35-save performance in a 5-0 win over Maine. She started the weekend with a 26-save win over Northeastern.
Abby Cook, BU (Fr., D; Kelowna, B.C.) Tallied an assist and a plus-two rating over the weekend.
Rebecca Leslie, BU (Jr., F; Ottawa, Ont.) Added five points on the weekend in two BU wins. Led the league with 16 shots on goal and scored the game-winning goal in a 5-0 shutout against Maine.
Briana Colangelo, UConn (Fr., F; Whitby, Ont.) Tied the game at one with a second-period goal on Saturday. She leads UConn rookies with nine goals this season.
Cydnee Cook, UConn (Jr., D; Winnipeg, Man.) Scored her first collegiate goal on her only shot of the day in a 4-1 loss to UNH.
Jessica Scott, UConn (Sr., D; Viverville, Man.) Tallied her 10th assist of the season on the game-tying goal in a 4-1 loss against UNH. Scott also blocked three shots in the game.
Paige Voight, MC (So., F; St. Michael, Minn.) Added two goals and one assist over the weekend, including the first goal in a 3-2 win over Vermont to close out the regular season.
Hilary Cashin, UNH (So., G; Fredericton, N.B.) Kicked out 56 of 58 shots faced on the weekend to backstop a road sweep of UConn, Cashin was the backbone of a 9-for-9 penalty kill on the weekend.
Nicole Dunbar, UNH (Fr., F; Coto de Caza, Calif.) Recorded one goal and one assist in a weekend sweep of UConn, netting the tie-breaking goal on Friday to give UNH a 2-1 lead in the second.
Kathleen McHugh, PC (Fr., F; Billerica, Mass.) Recorded two goals and one assist on the weekend, one assist coming less than a minute into Saturday's home win over Boston College.
Brooke Boquist, PC (Jr., F; Thunder Bay, Ont.) Had a three-point weekend in a split series against BC. She had two assists on Saturday and added a shorthanded goal on Sunday.
Rachael Ade, UVM (Sr., D; Davenport, Fla.) Netted the game winner on Friday night and assisted on Picard's weekend goal.
Bridget Baker, UVM (Sr., F; Los Gatos, Calif.) Scored twice in two games last weekend, once on a breakaway and once off a rebound.
Eve-Audrey Picard, UVM (Fr., F; Longueuil, Que.) Scored in a 4-3 victory over Merrimack Friday and added and assist Saturday.
---