Sunday, February 19, 2017
2017 Women's Hockey East Quarterfinal Pairs Set
15th Annual Championship to Take Place at BU's Walter Brown Arena March 4-5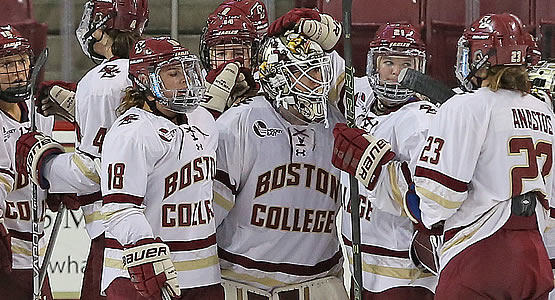 Boston College holds the top seed for the 2016 Women's Hockey East Tournament
WAKEFIELD, Mass. - The Hockey East Association has announced the pairings for the best-of-three quarterfinal round of the 2017 Women's Hockey East championship tournament. Playoff games begin Thursday (Feb. 23). A full schedule can be found in the attached release.
Hockey East regular-season champion and No. 1 Boston College (22-5-5/16-4-3 HEA) will play host to No. 8 Merrimack (11-20-3/7-17-0 HEA) at Conte Forum beginning Thursday (Feb. 23) at 2 p.m. This is the fourth straight season Boston College has earned the top seed and the Eagles have advanced to the championship game each of the last three years, including winning the 2016 WHEA Tournament title. Merrimack is making its first appearance in the playoffs in just its second season as a varsity program. The Warriors more than doubled their overall and conference win total from last season to earn a playoff berth. Boston College is 6-0-0 all time against Merrimack.
No. 2 Northeastern (19-11-3/14-8-2 HEA) draws No. 7 UConn (14-16-4/9-13-2 HEA) to Matthews Arena Friday (Feb. 24) at 7 p.m. Northeastern swept the season series over the Huskies, including taking two games in Storrs (Jan. 2, Jan. 20). The two programs have met three times previously in the Women's Hockey East Tournament, all in the quarterfinal round. The most recent meeting between the Huskies and the Huskies came in 2014, as Northeastern advanced past UConn, 2-1. Last year, Northeastern and UConn both advanced to the semifinals.
No. 3 Boston University (17-10-6/12-8-4 HEA) welcomes No. 6 New Hampshire (13-17-2/11-11-2 HEA) to Walter Brown Arena Friday (Feb. 26) at 7 p.m. to begin their best-of-three series The Terriers claimed a 3-0-0 record over the Wildcats in 2016-17, including a 5-1 victory at home on Oct. 7 before earning a 4-3 road win Feb. 10 and then triumphing, 5-2, the next day at home. Boston University seeks its sixth title in program history while New Hampshire looks for its fifth, and first since 2009. The programs have met three times previously in the playoffs, with BU holding a 2-1 series advantage, including a 1-0 record in the quarterfinals.
No. 4 Providence (16-15-3/11-10-3 HEA) will entertain No. 5 Vermont (13-2-9/9-8-7 HEA) at Schneider Arena as the Friars earn hosting duties for the first time since 2012, when they were also seeded fourth. Providence took the season series with Vermont, 1-0-2, as the last two times the teams met ended in stalemates. The best-of-three quarterfinal series will be the first playoff meeting between the two squads.
2017 Women's Hockey East Quarterfinals

Date
Match Up
Location
Time
Thursday, Feb. 23
No. 8 Merrimack at No. 1 Boston College
Conte Forum
2 p.m.
Friday, Feb. 24
No. 8 Merrimack at No. 1 Boston College
Conte Forum
2 p.m.
Friday, Feb. 24
No. 5 Vermont at No. 4 Providence
Schneider Arena
5 p.m.
Friday, Feb. 24
No. 7 UConn at No. 2 Northeastern
Matthews Arena
7 p.m.
Friday, Feb. 24
No. 6 New Hampshire at No. 3 Boston University
Walter Brown Arena
7 p.m.
Saturday, Feb. 25
No. 5 Vermont at No. 4 Providence
Schneider Arena
2 p.m.
Saturday, Feb. 25
No. 6 New Hampshire at No. 3 Boston University
Walter Brown Arena
3 p.m.
Saturday, Feb. 25
No. 7 UConn at No. 2 Northeastern
Matthews Arena
3 p.m.
Sunday, Feb. 26
No. 5 Vermont at No. 4 Providence*
Schneider Arena
2 p.m.
Sunday, Feb. 26
No. 6 New Hampshire at No. 3 Boston University*
Walter Brown Arena
3 p.m.
Sunday, Feb. 26
No. 7 UConn at No. 2 Northeastern*
Matthews Arena
3 p.m.
Sunday, Feb. 26
No. 8 Merrimack at No. 1 Boston College*
Conte Forum
7:30 p.m.
* if necessary