Thursday, January 26, 2017
Women's Hockey East Weekend Preview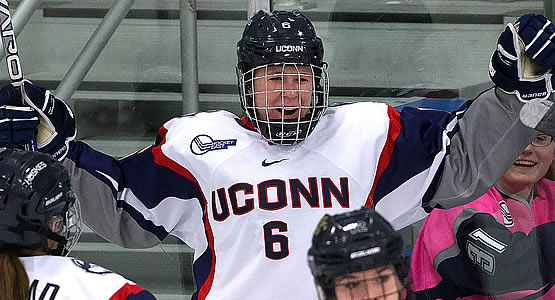 UConn faces off against Vermont at Freitas Ice Forum on Friday and Saturday
Vermont vs. UConn - Fri. 1/27, Sat. 1/28 at UConn
- The Vermont Catamounts (10-9-7/6-5-5 HEA) and the UConn Huskies (11-12-3/6-9-1 HEA) have met once this year already, skating to a 1-1 tie at Vermont on November 20.
- In last Friday's home loss to Northeastern, UConn junior forward Leah Lum (Richmond, B.C.) scored both of the Huskies' goals, her 13th and 14th markers of the season. Assisting Lum on her first goal was freshman forward Briana Colangelo (Whitby, Ont.), who had a three point weekend, including an assist and a goal in a 5-3 loss Saturday at Northeastern.
- On January 20, Vermont took an early lead over the Eagles, staking a 2-0 gap through the first half of the game thanks to junior defenseman Amanda Drobot (Churchville, Penn.) and senior forward Victoria Andreakos (Aurora, Ont.). Boston College tied the game with 46 seconds left in regulation and just 39 seconds into overtime to steal the win before shutting out the Catamounts, 3-0, the next day.

Providence vs. Maine - Sat. 1/28, Sun. 1/29 at ME
- The Providence College Friars (12-12-2/7-7-2 HEA) travel to Orono to face the Maine Black Bears (8-16- 1/4-12-1 HEA) for the season finale between the two programs. First time out, the Friars edged the Black Bears, 3-2, on October 28.
- Providence skated to a 0-1-1 weekend against then-No. 10 BU, including a four-goal comeback on Saturday after trailing, 4-1, in the second period, including three assists from rookie defenseman Whitney Dove (Port Moody, B.C.).
- The Friars' hottest skaters as of late have been freshman, with goaltender Clare Minnerath (Sartell, Minn.) and defensemen Dove and Avery Fransoo (North Battleford, Sask.) all nabbing the Pro Ambitions Rookie of the Week in three consecutive weeks. In addition, freshman forward Meaghan Rickard (Coventry, R.I.) played a major part in the 5-5 tie with BU, getting two goals and an assist in the contest.
- Maine has been trading series sweeps lately, with each of the past four series they've competed in resulting in either a pair of wins or losses. After dropping two games at New Hampshire, Maine returns home to the friendly confines of Alfond Arena, where they have not been defeated since November 28.

Northeastern vs. New Hampshire/Harvard - Sat. 1/28 at UNH, Tues. 1/31 at Northeastern (BP)
- The Northeastern Huskies (15-9-3/11-7-2 HEA) battle the New Hampshire Wildcats (11-13-1/9-7-1 HEA) for one game at Whittemore. The Huskies and Wildcats split the first two match ups, a home-and-home on January 6-7.
- The Huskies' points leader Denisa Krizova (Horni Cerekev, Czech Republic) put in work over the weekend, racking up five points (2g, 3a) in a pair of wins over UConn. Junior forward McKenna Brand (Nevis, Minn.) turned in three points of her own including the game-winning goal in each contest, both of which were assisted by Krizova.
- Northeastern then hosts the 39th annual Women's Beanpot on Tuesday, welcoming Harvard in the first round.
- As part of a weekend sweep over Maine, UNH senior forward Jonna Curtis (Elk River, Minn.) turned in the biggest weekend of any Hockey East skater this season, tallying eight points (4g, 4a) in two games. She started off with a goal and an assist in a 4-1 win on January 20 before exploding for three goals and three assists in a 7-0 win the next day. A 22-save shutout from sophomore goaltender Hilary Cashin (Frederiction, N.B.) backboned the Wildcats to victory.

Boston University vs. Merrimack/No. 6 Boston College - Sat. 1/28 at MC, Tues. 1/31 at Northeastern (BP)
- Merrimack College (8-17-3/4-14-0 HEA) welcomes in Boston University (13-8-5/8-7-4 HEA) for the regular season finale between the Warriors and the Terriers. BU has already taken a series win, going 2-0-0 in the first two contests.
- BU is coming off a 1-0-1 weekend with Providence, netting five goals in each game. The Terriers have tied four of their last six games in league play.
- Merrimack had only one matchup last weekend, a 2-2 tie with No. 8 Quinnipiac, then took on No. 6 Boston College for a Wednesday night matchup that ended 4-1 in the Eagles' favor, securing home ice during the quarterfinal round of the playoffs.
- Junior forward Victoria Bach (Milton, Ont.) netted a hat trick in the 5-5 tie with Providence on Saturday, then added three assists in a 5-2 win on Sunday for six points on the weekend and 35 this season (16g, 19a).
- In a difficult stretch of the season, facing nationally ranked teams in four straight games, Merrimack sophomore forward Annie Boeckers (Otsego, Minn.) scored a goal in each of the last two games.
- Boston University will then face No. 6 Boston College in the 39th Annual Women's Beanpot in the opening round on Tuesday hosted by Northeastern. Boston University will be looking for just their second title in the tournament's history, while Boston College is looking to repeat as champions from 2016.