Wednesday, January 11, 2017
2017 Skating Strides and Bertagna Trophy Tour Schedules Unveiled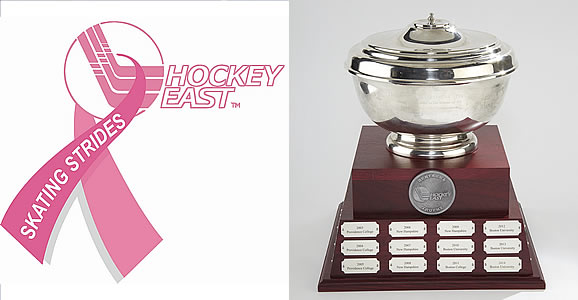 Campuses to Host Skating Strides Game Alongside Bertagna Trophy Tour
WAKEFIELD, Mass. – Hockey East Commissioner Joe Bertagna has announced the Hockey East Skating Strides schedule for 2016-17, the conference's fundraising vehicle to bring awareness to breast cancer and women's hockey. For the second consecutive season, all nine women's programs that compete in the conference will host a designated Skating Strides game on campus, bringing awareness to both women's hockey and breast cancer initiatives. The Bertagna Trophy, given annually to the Women's Hockey East Tournament champion, will also appear at each school campus, giving fans a close up look at one of the premier trophies in college athletics. A full schedule can be found below.
"Our conference has come a long way in 15 years of Women's Hockey East competition," said Bertagna. "I particularly hope the tour of our trophy brings people closer to the game and inspires young hockey-playing girls to pursue their dreams of playing college hockey."
"Our Skating Strides events have raised hundreds of thousands of dollars and also raised awareness of breast cancer and breast cancer research," said Bertagna. "We hope our fans come out and support this worthy cause as they have so generously in the past."
Hockey East's Skating Strides program was honored in May 2016 by Massachusetts General Hospital Cancer Center at the one hundred, a fundraising and awareness initiative that honors those that have displayed a commitment to fighting cancer.
Founded in 2006, Skating Strides is entering its 11th season of existence, and has contributed nearly $400,000 to breast cancer organizations throughout New England through the Friends of Mel Foundation, including the Patrick Dempsey Center for Cancer Hope & Healing in Maine, the Gloria Gemma Foundation in Rhode Island, the Vermont Cancer Center, Necessities Bag and the Helen and Harry Gray Cancer Center in Connecticut, the Program for Young Women with Breast Cancer, the Ellie Fund and the Art of Living Life Beyond Cancer Conference in Massachusetts.
2017 Skating Strides Schedule

Day
Away
Home
Time
Jan. 20
Northeastern
UConn
7pm
Jan. 21
UConn
Northeastern
3pm
Jan. 22
Providence
Boston Univ.
3pm
Jan. 28
Northeastern
New Hampshire
2pm
Jan. 29
Providence
Maine
2pm
Feb. 3
UConn
Boston College
7pm
Feb. 5
UConn
Providence
2pm
Feb. 12
Providence
Merrimack
2:05pm
Feb. 17
Merrimack
Vermont
7pm
---
2017 Bertagna Trophy Tour Schedule

Day
Away
Home
Time
Jan. 3
Vermont
Merrimack
7pm
Jan. 10
Frozen Fenway
7pm
Jan. 20
Northeastern
UConn
7pm
Jan. 29
Providence
Maine
2pm
Jan. 31
Women's Beanpot
at Northeastern
5pm
Feb. 3
Providence
Northeastern
2pm
Feb. 7
Women's Beanpot
at Northeastern
7:30pm
Feb. 10
Boston Univ.
New Hampshire
7pm
Feb. 11
New Hampshire
Boston Univ.
3pm
Feb. 17
Merrimack
Vermont
7pm
Feb. 18
Boston College
Providence
2pm
Feb. 19
Providence
Boston College
2pm