Thursday, December 8, 2016
Women's Hockey East Weekend Preview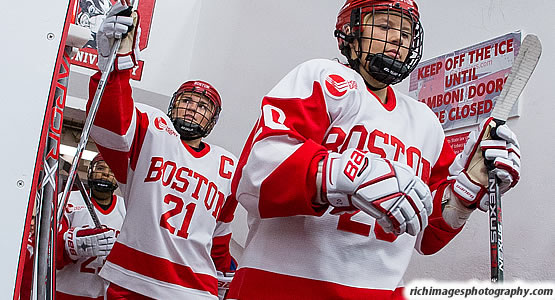 Boston University hosts No. 2 Minnesota on Friday and Saturday
Boston University vs. No. 2 Minnesota - Fri. 12/9, Sat. 12/10 at BU
- Two Boston University (11-6-1/7-6-0 HEA) skaters sit atop the conference in scoring with 25 points apiece. Senior Mary Parker (Milton, Mass.) has 16 goals and nine assists, coming off a 10-game point streak where she scored 10 goals and six assists. Junior forward Victoria Bach (Milton, Ont.) has 11 goals and 14 assists and has recorded at least one point in 14 of 18 contests. Bach also leads all Hockey East skaters in shots on net with 97 attempts.
- BU saw a six-game winning streak come to an end Saturday against UConn in a 2-1 setback.
- The Terriers and Golden Gophers last met on Oct. 4, 2014, when Minnesota earned a 5-2 win at home. They also clashed in the 2013 Frozen Four in Minnesota, a 6-3 Gophers win, and the 2014 NCAA Quarterfinals, a 5-1 Minnesota victory. Overall, Minnesota is 4-0-0 against Boston University.

Merrimack vs. Providence - Fri. 12/9 at PC
- The Merrimack Warriors (6-12-2/2-9-0 HEA) and the Providence Friars (8-10-1/4-6-1 HEA) face off in the final Hockey East matchup of the 2016 calendar year. Both teams suffered a pair of losses to conference rivals last week, as Merrimack fell to New Hampshire and Providence dropped games against then-No.10 Northeastern and No.6 Boston College.
- Merrimack sophomore forwards Paige Voight (St. Michael, Minn./8g, 2a) and Jessica Bonfe (Woodbury, Minn./6g, 4a) are the leading point-getters for the Warriors in league play, while fellow sophomore forward Katelyn Rae (Courtice, Ont.) has racked up 11 goals and five assists through 20 contests to lead her team in overall scoring.
- Providence's top three point-getters through the 19 games include forwards senior Cassidy Carels (Bruxelles, Man./12g, 8a), junior Brooke Boquist (Thunder Bay, Ont./10g, 7a), and sophomore Christina Putigna (Grimsby, Ont./7g, 10a). Carels was the Friars' leading scorer last season with 29 points (9g, 20a) in 36 games, while Putigna had 28 (11g, 17a) and Boquist recorded 22 (12g, 10a) to rank second and third on the team.
- The two teams last met on Oct. 29, a 6-2 Providence win behind a four-point night (2g, 2a) from Boquist.

Maine vs. Union - Fri. 12/9, Sat. 12/10 at ME
- The Maine Black Bears (4-12-1/2-8-1 HEA) return to regular-season play after a 6-3 exhibition win against Mount Allison. Freshman forward Tereza Vanisova (Strakonice, Czech Republic) netted the puck four times against Mount Allison and added an assist for a five-point night. She currently leads her team with 10 goals and nine assists through 17 games.
- Junior forward Brooke Stacey (Kahnawake, Que.) is riding a six-game point streak, scoring seven goals and five assists in that span. Stacey leads Maine in faceoffs won (160), nearly double the next skater (Pribylova, 83).
- Last season, Maine took three of four points from Union in a pair of games Dec. 11-12, winning, 1-0, before tying, 2-2.

Vermont vs. Dartmouth - Sat. 12/10 at UVM
- The Vermont Catamounts (6-6-4/4-2-3 HEA) welcome Dartmouth to Burlington for one game on Saturday. When the two met last season, UVM edged Dartmouth 3-2 for the win.
- Vermont is coming off a two-game sweep of No.10 Northeastern. Both games went into overtime and both times UVM scored in under two minutes to secure two points in league play.
- Freshman forward Ève-Audrey Picard (Longueuil, Que.) scored the game-winning overtime tally Sunday at Northeastern, bringing her point total on the year to 10 (5g, 5a). Sophomore forward Saana Valkama (Pirkkala, Finland) is tied for the team point lead with two goals and eight assists.
- Senior goaltender Madison Litchfield (Williston, Vt.) is currently 3-2-3 with 211 saves and a .938 save percentage. She currently leads all Hockey East goaltenders in goals against average (1.44) and save percentage (.947) in conference play. Meanwhile, sophomore netminder Melissa Black (Newmarket, Ont.) is 3-3-1 with a 2.80 goals against average and .915 save percentage after winning both games against Northeastern last weekend.

New Hampshire vs. Yale - Sat. 12/10 at Yale
- The New Hampshire Wildcats (7-11-1/6-6-1 HEA) end 2016 with a matchup against Yale. Last season UNH got a 5-2 win in the only tilt between the two.
- UNH is coming off a two-game sweep of Merrimack, netting nine goals in the two games to outscore the Warriors, 9-4.
- Senior forward Jonna Curtis (Elk River, Minn.) leads all Wildcats skaters with 19 points (11g, 8a) across 19 games. She has scored two game-winning goals for her squad and has assisted on three others.
- Reigning Pro Ambitions Rookie of the Week Nicole Dunbar (Coto de Caza, Calif.) has scored in each of her last three outings, including scoring the winning goal against Merrimack on Dec. 3
- In the past three weeks, four different UNH skaters have been recognized with Hockey East weekly awards, covering all three categories. Curtis received Warrior Hockey East Player of the Week (Nov. 21), Cashin received Hockey East Defensive Player of the Week (Nov. 21), and Dunbar and Meghara McManus (Milton, Mass.) have each received Pro Ambitions Rookie of the Week (Nov. 28, Dec. 5).