Monday, December 12, 2016
Weekly Release: Boston University Downs No. 2 Minnesota in Overtime
Maine Sweeps Union; Four Other Teams Earn Single Wins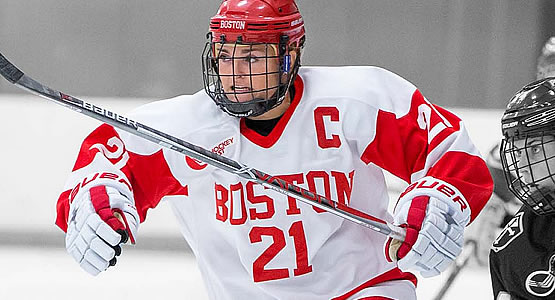 Warrior Hockey Player of the Week Natalie Flynn of Boston University
AROUND HOCKEY EAST: Boston University earned its first win over a top-five opponent this season as it downed No. 2 Minnesota, 6-5, in overtime on Saturday. Terrier captain and senior forward Natalie Flynn (Medford, Mass.) registered the game-winning strike, her second of the game, to seal the victory for her team. Senior forwards Samantha Sutherland (Cochrane, Alta./1g, 1a) and Maddie Elia (Lewiston, N.Y./2a) also had two-point games for the Terriers. In the first game, Mary Parker (Milton, Mass.) scored her 17th goal of the season, the lone Terrier tally in a 5-1 set back to the Golden Gophers ... Boston College took on Dartmouth on the road Wednesday evening, coming away with a 6-1 victory. Freshman forward Delaney Belinskas (Port Orange, Fla.) extended her point streak to six games with two goals and one assist on the night, giving her a total of 12 poi nts across that span and earning Pro Ambitions Rookie of the Week honors. Senior forward Andie Anastos (Farmington Hills, Mich.) also had three points (1g, 2a), while junior goaltender Katie Burt (Lynn, Mass.) earned her 10th win of the season and 75th of he r career with 28 saves … Merrimack traveled to Providence for the last Hockey East matchup of 2016 on Saturday. Warriors sophomore forward Allsion Sexton (Stonewall, Man.) opened the scoring with her second goal in as many games, and freshman forward Mikayla Grant-Mentis (Brampton, Ont.) netted her third of the year to stake Merrimack to a 2-1 lead. Friars freshman forward Neve Van Pelt (Nitchell, Ont.) got her first collegiate goal, assisted by senior forward Cassidy Carels (Bruxelles, Man.) who also scored her own to tie things at 2-2, before junior forward Brooke Boquist (Thunder Bay, Ont.) converted a shorthanded, third-period winner, as the Friars topped the Warriors 3-2 … A two-goal night from junior forward Catherine Tufts (Church Point, N.S.) led the Maine Black Bears to a 2-1 victor y over Union on Friday before freshman forward Tereza Vanisova (Strakonice, Czech Republic) scored twice in Saturday's 3-1 win for the weekend sweep. Freshman goaltender Carly Jackson (Amherst, N.S.) saved 49 of 51 shots she saw to earn her third and fourth wins of the season … In Burlington, Vermont took on Dartmouth for a one-game set, as Catamounts senior defenseman Rachael Ade (Davenport, Fla.) recorded one goal and one assist and sophomore defenseman Sammy Kolowrat (Prague, Czech Republic) got her first goal of the season in th e 4-2 win for UVM … New Hampshire traveled to Yale for a one-game road trip that saw freshman forward Nicole Dunbar (Coto de Caza, Calif.) extend her goal streak to four games while also adding an assist in a 5-3 win. She now has six points in her last four games. Wildcat junior forward Kate Hasslet (Rothesay, N.B.) got one goal and one helper to get the Wildca ts victory.
---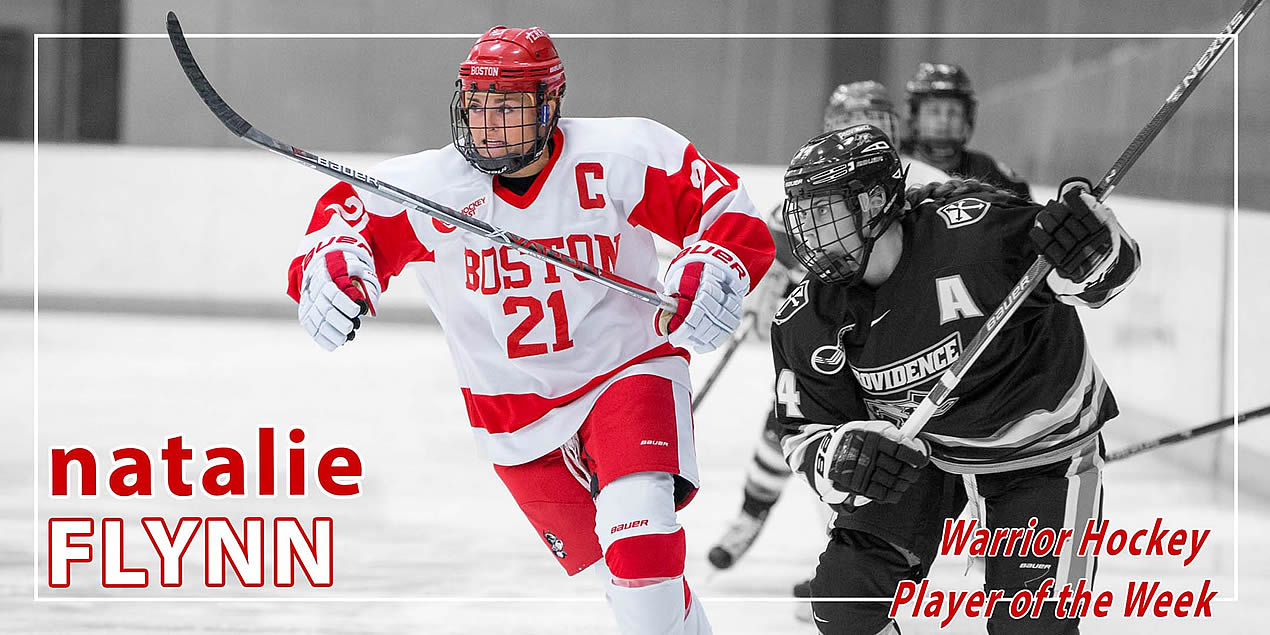 NATALIE FLYNN - BOSTON UNIVERSITY

Natalie Flynn (Medford, Mass.) helped propel the Terriers past No. 2 Minnesota with a career-high two goals, including the overtime game-winning tally on Saturday. Flynn tripled her career goal total in the outing.
---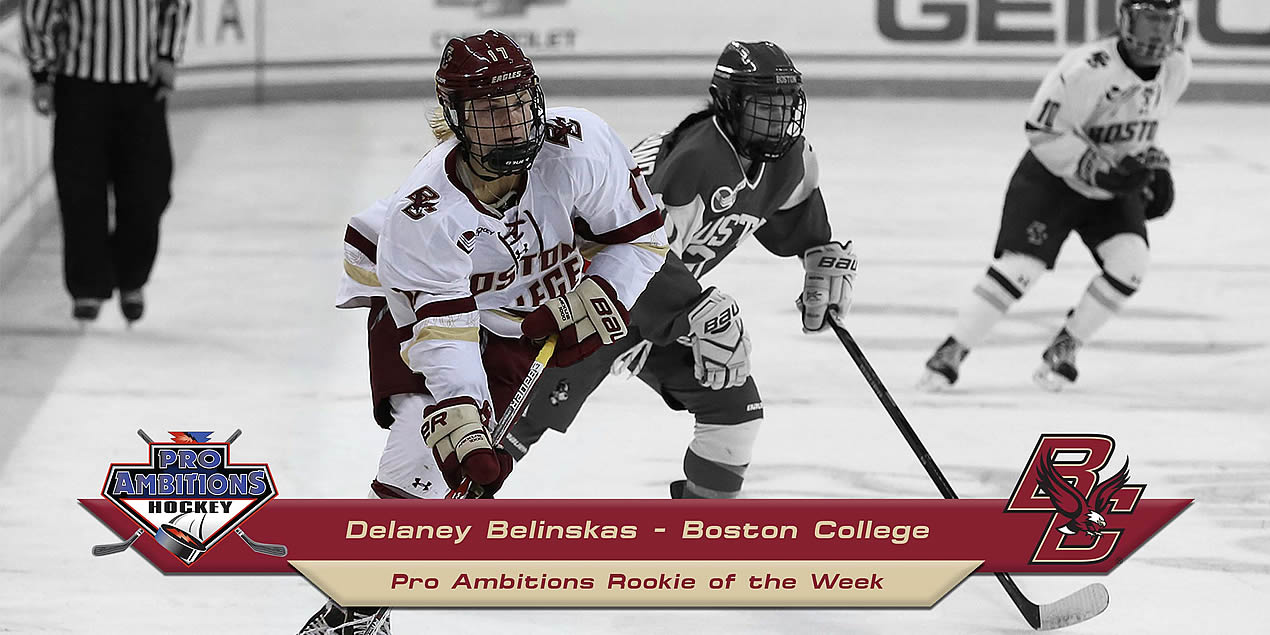 DELANEY BELINSKAS - BOSTON COLLEGE

Delaney Belinskas (Port Orange, Fla.) potted a pair of goals and chipped in an assist in a 6-1 win at Dartmouth for her third consecutive multi-point outing. Sje finished the game with a plus-four rating, the highest in the league last week.
---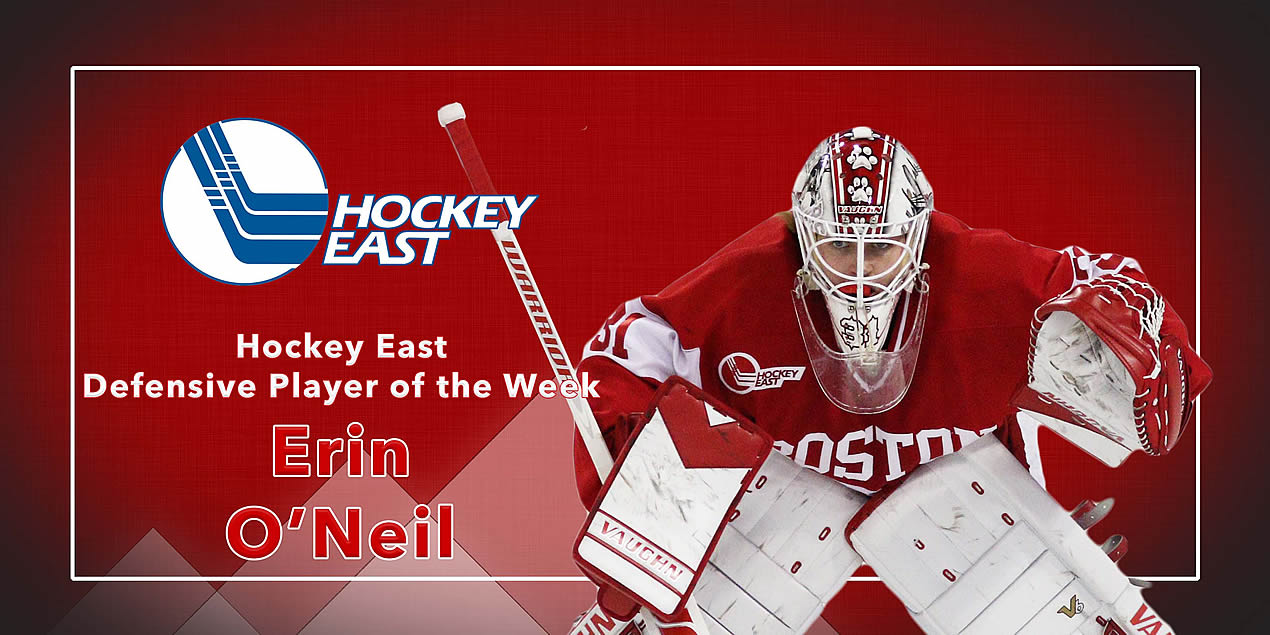 ERIN O'NEIL - BOSTON UNIVERSITY

Erin O'Neil (Lynn, Mass.) kicked out 44 saves in a 6-5 win over No. 2 Minnesota Saturday, helping the Terriers to an overtime victory. She allowed just two even-strength goals in the contest en route to Boston University's first win over a top-five ranked team since downing No. 1 Boston College in the 2016 WHEA title game.
---
HOCKEY EAST WEEKLY TOP PERFORMERS
Andie Anastos, BC (Sr., F; Farmington Hills, Mich.) In a 6-1 win over Dartmouth, Anastos posted three points (1g, 2a) and was plus-four for the game. She now has seven points in the last two contests.
Katie Burt, BC (Jr., G; Lynn, Mass.) Made 24 saves and only let one by in her 75th career victory in net. Had a .960 save percentage on the day at Dartmouth.
Nataza Tarnowski, BU (Fr. F; Embrun, Ont.) Had two assists in the 6-5 overtime win over No. 2 Minnesota on Saturday, including a helper on the game winner. The two assists were a career high.
Victoria Hanson, BU (Sr., G: Stoughton, Mass.) Stopped 45 shots against No. 2 Minnesota on Friday.
Catherine Tufts, ME (Jr., F; Church Point, N.S.) Scored both Maine goals in a 2-1 win over Union.
Tereza Vanisova, ME (Fr., F; Strakonice, Czech Republic) Scored two goals in Saturday's 3-1 win for the Black Bears, and is now averaging 1.16 points per game this season.
Carly Jackson, ME (Fr., G; Amherst, N.S.) Got both starts in net this weekend to earn two wins, stopping 49 of 51 shots.
Meghara McManus, UNH (Fr., F; Milton, Mass.) Had a career-high three assists in a 5-3 road win over Yale on Saturday, becoming the first UNH skater to record three assists in a game in more than three years.
Carlee Turner, UNH (Fr. F; Scottsdale, Ariz.) Extended her assist streak to four games, and then added her own goal to give UNH a 4-1 lead in the second, on their way to a 5-3 win over Yale.
Cassidy Carels, PC (Sr., F; Bruxelles, Man.) Registered two points in a come-from-behind victory over Merrimack, assiting on the Friars' first goal and scoring the game-tying tally in a 3-2 win.
Sydney Scobee, UVM (Fr., G; Minnetrista, Minn.) Got her first collegiate win after posting 14 saves against Dartmouth on Saturday.
Ali O'Leary, UVM (Fr., F; Reading, Mass.) Assisted on the game-winning goal against Dartmouth, then assisted on the insurance goal for the Catamounts.
Rachael Ade, UVM (Sr., D; Davenport, Fla.) Tallied one goal and one assist in UVM's 4-2 win over Dartmouth on Saturday, her first multi-point game since 2014.
---