WOMEN'S HOCKEY EAST HONORS ALL-ACADEMIC TEAM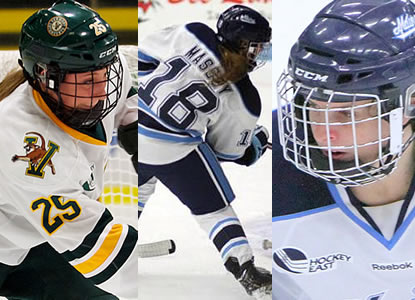 Top Scholar-Athletes: Megan Dalbec, Brianne Kilgour and Kate Massey
Wakefield, Mass. -- Hockey East is proud to announce that 95 student-athletes have been named to the league's 2013-14 All-Academic Team. Each student-athlete achieved a grade point average of 3.0 or better in each of the two academic periods during which she was actively competing.
Three women achieved a perfect 4.0 GPA in each semester and share honors as Hockey East's Top Scholar-Athlete. Vermont senior defenseman Megan Dalbec (Champlin, Minn.) and Maine junior forward Kate Massey (Waterville, Maine) will hold the title together for the third straight season, and Dalbec makes it an amazing four seasons in a row. They are joined this year by Massey's teammate, senior forward Brianne Kilgour (Hamilton, Ontario.) Eight other student-athletes joined Dalbec in reaching "Distinguished Scholar" status this season, having qualified for the All-Academic team in each of four seasons of varsity play, and 18 others are three-time honorees. Massey and Kilgour were the most prominent of a Black Bear squad that led the league with 20 All-Academic qualifiers this season.
The Women's Hockey East Association is an eight-team, Division-I college hockey conference which began play in 2002-2003, with offices based in Wakefield, Mass. The conference also sponsors a 12-team men's league which began play in 1984.
2013-14 WOMEN'S HOCKEY EAST ALL-ACADEMIC TEAM
Anastos, Andie (Boston College, F)
Armstrong, Hannah (New Hampshire, F) +
Armstrong, Megan (New Hampshire, D) **

Becker, Mia (Boston University, G)
Bender, Lexi (Boston College, D) **
Berisoff, Brittany (UConn, F)
Bizzari, Melissa (Boston College, F) ***
Blake, Taylor (Boston College, G) **
Boissonneault, Eve (Maine, F)
Boyles, Corinne (Boston College, G) +
Brigham, Emile (Maine, F)
Browne, Haley (Maine, F)
Bryant, Sarah (Providence, G) **

Campbell, Sarah (Vermont, D) **
Campeau, Cassidy (Vermont, F)
Carlson, Sarah (New Hampshire, F) **
Cava, Michela (UConn, F)
Chuli, Elaine (UConn, G) **
Cook, Abbey (Maine, F) **

Dalbec, Megan (Vermont, D) +
(Hockey East Top Scholar-Athlete) 4.00
DeMars, Stephanie (Providence, F)
Doherty, Ann (Northeastern, D) ***
Doherty, Danielle (Boston College, F) **
Douville, Roxanne (Vermont, G) +
Doyle, Shannon (Boston University, D)

Esposito, Brittany (Northeastern, F) +

Foss, Sarah (Northeastern, G)
Frade, Haley (Providence, F) ***
Fujimagari, Mariah (Maine, G)

Gifford, Nicole (New Hampshire, F)
Goldberg, Chelsey (Northeastern, F) **
Grieves, Meghan (Boston College, F)

Hall, Jessica (Maine, D) **
Hanson, Victoria (Boston University, G)
Haskins, Carly (Connecticut, D)
Haslett, Kate (New Hampshire, D)
Hewes, Caitlin (UConn, D) **
Hiller, Braly (Boston University, G) **
Hitchcock, Jess (New Hampshire, F) **
Huneke, Brittany (Maine, D) **

Jean, Marie-Eve (New Hampshire, G) **

Kaluzny, Kayla (Maine, F/D) +
Kashman, Heather (New Hampshire, F) **
Kickham, Erin (Boston College, F) ***
Kilgour, Brianne (Maine, F) ***
(Hockey East Top Scholar-Athlete) 4.00
Kirkup, Karissa (Maine, F)
Kukowski, Courtney (Providence, F)

Langlois, Brooklyn (Maine, D) **
Langtry, Jillian (Maine, F) **
Lersch, Alexandra (UConn, D)
Lundeen, Suzie (Providence, F/D)

MacDonnell, Sarah (UConn, F) ***
MacLean, Haley (Boston College, F)
MacSorley, Katie (Northeastern, F) ***
MacSorley, Kelsey (Maine, D) **
Massey, Katy (Maine, F) ***
(Hockey East Top Scholar-Athlete) 4.00
Masters, Hayley (Northeastern, F)
McDonald, Kelly (Maine, D) +
Micheletti, Allison (Providence, F) ***
More, Jannifer (Maine, F) **
Mork, Kayla (New Hampshire, F) ***
Morse, Rebecca (Providence, D) ***
Moses, Sarah (UConn, G) **
Mottau, Heather (Northeastern, D)
Murphy, Colleen (Northeastern, D)
Myren, Klara (Vermont, F) ***

O'Niell, Arielle (New Hampshire, F) +
O'Sullivan, Kelsey (Northeastern, G) ***

Pasquariello, Tori (Maine, F) **
Pelkey, Amanda (Vermont, F)
Pendleton, Maggie (Providence, D) ***
Pfalzer, Emily (Boston College, D) **
Popova, Lucie (Northeastern, F)

Rancourt, Danielle (Vermont, F) +
Richards, Audra (Maine, F) **
Riggs, Meghan (Boston University, F) +
Riley, Nina (Providence, G) +
Romanchuk, Lexi (Providence, D) **
Ryan, Jess (New Hampshire, D) ***

Sakundiak, Morgan (Maine, F)
Salerno, Ashley (Vermont, D)
Santostefano, Claire (Northeastern, F) ***
Scamurra, Hayley (Northeastern, F)
Simpson, Brooke (Providence, F) **
Sperry, Kerrin (Boston University, G) **
Storo, Kaitlin (UConn, F)

Tutino, Kayla (Boston University, F)

Vaattovaara, Viivii (Connecticut, F/D)
Vaattovaara, Vilma (New Hampshire, G) **
Vallotton, Jessica (Maine, D)

Weber, Janine (Providence, F)
Wedell, Lauren (Boston College, D)

Young, Jackie (Boston College, D) ***

Zimmer, Margaret (UConn, F) **
Zuback, Brittany (Vermont, F) **

** two-time honoree
*** three-time honoree
+ "Distinguished Scholar" - 3.0 GPA in each semester over four varsity seasons

2013-14 Hockey East Academic All-Star Team
(Top GPA by Position)
G: Roxanne Douville, Vermont (3.86)
D: Megan Dalbec, Vermont (4.00)
D: Alexandra Lersch, Connecticut (3.97)
D: Lauren Wedell, Boston College (3.97)
F: Brianne Kilgour, Maine (4.00)
F: Kate Massey, Maine (4.00)
F: Danielle Rancourt, Vermont (3.91)