PAIR OF WHEA ASSISTANTS TO HELP COACH U.S. UNDER-18 TEAM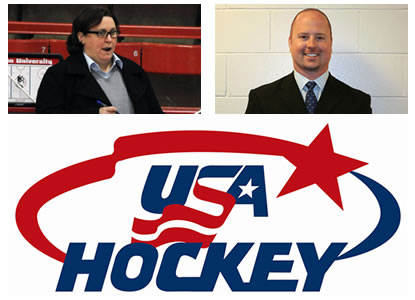 Katie Lachapelle and Brent Hill will help coach the Women's U-18 team this year
Colorado Springs, Colo. - USA Hockey announced the coaching staff for the 2014-15 U.S. Women's National Under-18 Team on Tuesday, which includes a pair of Hockey East assistants. The coaching staff, headed by University of Minnesota Associate Head Coach Joel Johnson, includes Boston University Assistant Coach Katie Lachapelle and Merrimack College Assistant Coach Brent Hill.
These coaches will lead the U.S. Women's National Under-18 Team in a series against Canada from Aug. 20-24, 2014 and in the IIHF World Under-18 Championships in early 2015.
Lachapelle is returning for her second-straight stint as an assistant with the Under-18 Team, after helping the squad win silver at the 2014 IIHF World Under-18 Championships. The former Providence College captain has been an assistant under Brian Durocher at Boston University since 2008, after previously being an assistant at Ohio State, Niagara and Union. In 2013, the American Hockey Coaches Association named Lachapelle the recipient of the Women's Ice Hockey Assistant Coach Award.
Hill is making his first appearance as a coach for Team USA, after recently joining the inuagural women's hockey coaching staff at Merrimack College. Hill spent four seasons as an assistant for the women's program at RPI, and has also had coaching stops with the Vermont Stars Tier I youth girls team, the Green Mountain Glades, a Tier I youth boys team, as well as the St. Michael's College women's team.
The Women's Hockey East Association is an eight-team, Division-I college hockey conference which began play in 2002-2003, with offices based in Wakefield, Mass. Member schools include Boston College, Boston University, University of Connecticut, University of Maine, University of New Hampshire, Northeastern University, Providence College and University of Vermont, with Merrimack College joining for the 2015-16 season. The league also sponsors a 12-team men's league which began play in 1984.