BU and BC Women Draw NCAA Road Work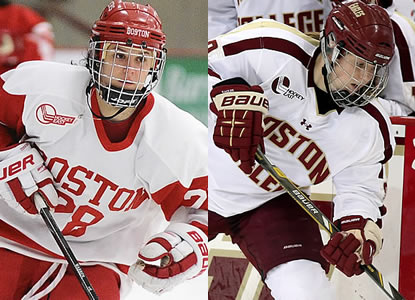 BU and BC will play in the NCAA tournament
Women's Hockey East Tournament Champion Boston University and Women's Hockey East Regular Season Champion Boston College will represent the conference in the 14th Annual NCAA National Collegiate Women's Ice Hockey Championships. Both squads will leave campus next weekend to play quarterfinal round games on the road.
The Terriers of BU, who successfully defended its WHEA Tournament crown with a 3-2 win over Boston College on Sunday afternoon in Hyannis, Mass., will visit top seed and defending NCAA champ Minnesota on Saturday, March 15. The Gophers won both the regular season and tournament titles in the WCHA.
The Eagles of BC, who won their fist-ever WHEA regular season crown this season, visit ECAC rival Clarkson, also on Saturday. The Golden Knights won the ECAC regular season title but lost at home to Cornell this afternoon, 1-0, in the tournament final at Potsdam, N.Y.