BU'S SARAH LEFORT NAMED WARRIOR PLAYER OF THE YEAR
~ BC's Crowley and UVM's Plumer share Coach of the Year; BC's Anastos earns Rookie of the Year ~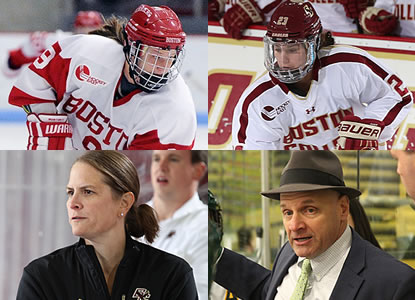 Pictured: Sarah Lefort, Andie Anastos, Katie King Crowley and Jim Plumer
Hyannis, Mass. -- The Women's Hockey East Association announced that Boston University sophomore forward Sarah Lefort (Ormstown, Que.) was named the recipient of the 2013-14 Cammi Granato Award as Warrior Player of the Year on Friday night at the annual Championship Awards banquet in Hyannis, Mass., at the Cape Codder Resort and Spa.
Boston College Head Coach Katie King Crowley and Vermont Head Coach Jim Plumer were named the Hockey East Co-Coaches of the Year, with Crowley winning the award for the second consecutive season. The Eagles also produced their second-straight Pro Ambitions Rookie of the Year, as forward Andie Anastos (Farmington Hills, Mich.) was chosen as the league's top rookie a year after teammate Haley Skarupa (Rockville, Md.) won the award in 2012-13.
Lefort is the first-ever Terrier to win Warrior Player of the Year. She is only female Division I player who has reached 30 goals this season, and she has added 23 assists for 53 points in 35 games. Lefort led Hockey East in overall scoring and conference scoring, as she had 19 goals and 17 assists for 36 points. She won Warrior Player of the Month honors in December and February, in addition to a pair of Warrior Player of the Week Awards. She has helped lead the Terriers to a 22-12-1 record on the season by notching eight game-winning goals, and she recorded 17 multi-point games.
Crowley led the Eagles to their first-ever WHEA Regular Season Championship with an 18-2-1 record in league play. BC went on an 11-game unbeaten streak (9-0-2) from November 30 to February 4, and won its fifth Beanpot in school history on February 11 at Conte Forum. Plumer's Catamounts have had their best season since joining Division I in 2001, with an 18-13-4 overall record and a 13-7-1 league record (fourth place). UVM had won 19 games total over the last three seasons coming into this year, and was picked to finish sixth in the preseason coaches poll.
Anastos was named Pro Ambitions Rookie of the Month in October, November and January, and took home Pro Ambitions Rookie of the Week recognition three times over the season. She finished second on her team in scoring with 14-21--35 totals in 34 games, and she led the Eagles in conference scoring with 10 goals and 16 assists for 26 points in 21 WHEA games. Nationally, Anastos trails only Robert Morris forward Brittany Howard in rookie scoring with 1.03 points per game.
The Women's Hockey East Association is an eight-team, Division-I college hockey conference which began play in 2002-2003, with offices based in Wakefield, Mass. The league also sponsors an 11-team men's league which began play in 1984-1985.
2013-14 WHEA Major Award Winners


Runner-Up: Kelly Wallace, Northeastern (Sr., F, Libertyville, Ill.)

Runner-Up: Heather Mottau, Northeastern (D, Milton, Mass.)