LEAGUE ANNOUNCES PRO AMBITIONS ALL-ROOKIE TEAM HONOREES
~ Conference tabs six more student-athletes with honors ~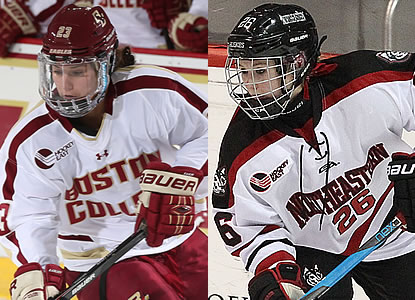 Unanimous All-Rookie selections Andie Anastos (BC) and Heather Mottau (NU)
WAKEFIELD, Mass. - The Women's Hockey East Association announced on Wednesday its Pro Ambitions All-Rookie Team for the 2013-14 season, as voted on by the league's eight head coaches. The awards will be presented at the 12th annual Hockey East Awards Banquet on Friday night in Hyannis, Mass., kicking off the league's Championship weekend at the Hyannis Youth and Community Center at Lt. Joseph P. Kennedy Rink.
This season's All-Rookie Team consists of six forwards and one defenseman. Northeastern was the only team to have two players named to the squad, with forward Hayley Scamurra (Williamsville, N.Y.) and defenseman Heather Mottau (Milton, Mass.) both earning conference honors. Scamurra was the league's Rookie of the Month for February, and Mottau, a unanimous selection for the All-Rookie Team, lead all WHEA freshmen defensemen in scoring with five goals and 13 assists for 18 points. BU forward Maddie Elia (Lewiston, N.Y.) made the All-Rookie Team with 11-14--25 totals on the year, with seven of her 14 assists coming on game-winning goals. All-Rookie forward Cassandra Vilgrain (Calgary, Alta.) was UNH's third-leading scorer with 17 points (9g, 8a), and she was the only Wildcat freshman to log more than ten games played this season (32). Vermont forward Victoria Andreakos (Aurora, Ont.) earned league honors by notching 11-16--27 totals, with six of her 11 goals coming on the power play. PC's All-Rookie selection, Cassidy Carels (Bruxelles, Man.), led the Friars in goals this season with 14.
Boston College freshman forward Andie Anastos (Farmington Hills, Mich.) led all WHEA rookies in scoring, with 14 goals and 21 assists for 35 points in 34 games. She was the Eagles' second-leading scorer, led the team in assists, and tied for the team lead in game-winning goals (4). One of two unanimous All-Rookie selections, Anastos was named WHEA Pro Ambitions Rookie of the Month three out of five possible months this season, taking home the award in October, November and February. She was assessed just one penalty all season, on Oct. 20, and managed a plus-21 rating.
Providence junior forward Haley Frade (Marion, Mass.) was selected for the Sportsmanship Award after recording just three penalties for six minutes all season. In 21 league games, the only penalty assessed to Frade was a holding minor in the third period of a 1-0 win vs. UConn on Jan. 26. She led the Friars in scoring, with seven goals and 18 assists for 25 points, and she averaged a point-per-game in conference play with 21 points (6g, 15a).
As a team, the Boston College Eagles allowed a league-low 1.67 goals per game in WHEA play this season, backstopped by Hockey East Goalending Champion Corinne Boyles (Wheaton, Ill.). Boyles, who won the award for the second straight season, went 15-2-1 in league play, with a 1.52 GAA and a .945 save percentage. On BC's blue line, junior defenseman Emily Pfalzer (Getzville, N.Y.) was selected as the recipient of the Best Defenseman Award after recording 24 points (6g, 18a) and a plus-24 rating. Up front, Eagles senior forward Taylor Wasylk (Port Huron, Mich.) earned the Gladiator Best Defensive Forward award. Offensively, Wasylk set new career-highs in assists (18) and points (29).
For the second time in three years, the Squad Locker Scoring Champion comes from Boston Universiy. This year it's sophomore Sarah Lefort (Ormstown, Que.), who recorded 19 goals and 17 assists for the Terriers, helping guide them to a 14-7-0 record in WHEA play. In just two seasons on Babcock St., Lefort already has 54 goals and 42 assists for 96 points in 72 games. Lefort's teammate Louise Warren (Sr., F, Pembroke, Ont.) took home the Three Stars Award, given annually to the player who earns the most First, Second and Third Star selections, Warren had 18 goals and 15 assists for 33 points in 21 league games, and she was named a star of the game on eight occasions (four First Stars).
The Women's Hockey East Association is an eight-team, Division-I college hockey conference which began play in 2002-2003, with offices based in Wakefield, Mass. The league also sponsors an 11-team men's league which began play in 1984-1985.
WHEA Pro-Ambitions All-Rookie Team


Defense
Heather Mottau
Northeastern
(Milton, Mass.)
(unanimous selection)

Forward:
Andie Anastos
Boston College
(Farmington Hills, Mich.)
(unanimous selection)

Forward
Victoria Andreakos
Vermont
(Aurora, Ont.)

Forward
Cassidy Carels
Providence
(Bruxelles, Man.)

Forward
Maddie Elia
Boston University
(Lewiston, N.Y.)

Forward
Hayley Scamurra
Northeastern
(Williamsville, N.Y.)

Forward
Cassandra Vilgrain
New Hampshire
(Calgary, Alta.)
---
2013-14 WHEA Award Winners


Runner-Up: Danielle Rancourt, Vermont (Sr., F, Sudbury, Ont.)

Runner-Up: Kaleigh Fratkin, Boston University (Sr., Burnaby, B.C.)

Runner-Up: Nicole Gifford, New Hampshire (Sr., Ennismore, Ont.)


Runner-Up: Andie Anastos, Boston College (Fr., F, Farmington Hills, Mich.)


Runner-Up: Louise Warren, Boston University (Sr., F, Pembroke, Ont.) (33 pts: 18g, 15a)


Runner-Up: Roxanne Douville, Vermont (Sr., Beloeil, Que.) (12-5-1, 1.82 GAA, .941 save%)