WEEKEND PREVIEW: CATAMOUNTS SET TO TAKE ON NU, PC; UNH HEADS TO ORONO
- UConn Hosts BU For Two; Skating Strides Heads to UConn and BC -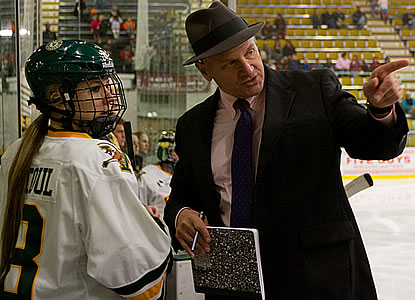 Vermont hits the road for games at Northeastern and Providence this weekend
Boston University vs. Connecticut – Two-Game Series (Fri. at Freitas Ice Forum, Sat. at Walter Brown Arena)
- Friday night's matchup will be the next stop for Hockey East Skating Strides, which aims to raise money and awareness for various breast cancer-related charities throughout New England via the Friends of Mel Foundation.
- UConn sophomore goalie Elaine Chuli (Waterford, Ont.) has made at least 30 saves in nine consecutive starts.
- BU sophomore forward Sarah Lefort (Ormstown, Que.) is second in Division I in goals with 19, trailing only Clarkson's Jamie Lee Rattray, who has 23.

New Hampshire at Maine – Two-Game Series (Sat., Sun. at Alfond Arena)
- UNH freshman forward Cassandra Vilgrain (Calgary, Alta.) has points in three straight games, with three goals and an assist.
- Maine's 4-3 loss at Northeastern on Friday night marked the sixth overtime game for the Black Bears this season, but it was the first to not end in a tie.

Providence at #7 Boston College – Saturday at Conte Forum
- Saturday's matchup will be BC's Skating Strides game.
- The Eagles are 12-0-1 in their last 13 conference games, and 7-0-2 in their last nine overall. Freshman forward Andie Anastos (Farmington Hills, Mich.) is currently on a five-game point streak with two goals and five assists for seven points.

Vermont at Northeastern – Saturday at Matthews Arena
- The Huskies have won four consecutive league games by a combined score of 19-8. Senior forward Brittany Esposito (Edmonton, Alta.) has had a multi-point game in each of those four games, with six goals and four assists for ten points.
- UVM's sweep of BU last weekend helped the V-Cats get to 11 wins on the season, the most they've had in one season since moving to Division I in 2001-02.

Vermont at Providence – Sunday at Schneider Arena
- In the third period of PC's 1-0 win over UConn on Sunday, the Friars held the Huskies without a shot on goal, while only allowing eight over the course of the game.