WEEKEND PREVIEW: VERMONT-BC AND UNH-UCONN SET TO PLAY TWO
- BU Visits PC, Hosts NU; PC Travels to Maine -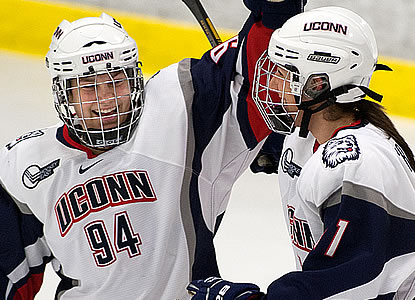 UConn faces New Hampshire in a home-and-home series this weekend
Vermont at #7 Boston College – Two-Game Series (Friday and Saturday)
- Back on Nov. 8, the Eagles visited the Catamounts and came away with a 6-1 win. Junior forward Emily Field (Littleton, Mass.) had two goals, while Andie Anastos (Farmington Hills, Mich.) had a goal and two assists.
- UVM junior forward Amanda Pelkey (Montpelier, Vt.) has 16 goals on the season, just two shy of the program record of 18 set in 1995-96 by Allie Knowles.

#9 Boston University at Providence – Friday
- Sophomore forward Sarah Lefort (Ormstown, Que.) has scored the game-winning goal in six of BU's 16 wins this season, after having seven game-winners last season.
- Despite holding a 9-14-0 record overall this season, the Friars are 5-3-0 in games decided by a goal or less.

New Hampshire vs. UConn – Two-Game Series (Saturday at UNH, Sunday at UConn)
- The Wildcats are currently 6-0-1 when they score three-or-more goals, and they are 1-7-1 when they allow three or more goals.
- On Jan. 11, UConn sophomore goalie Elaine Chuli (Waterford, Ont.) recorded her first career shutout, making 32 saves in a 2-0 win over Vermont.

Providence at Maine – Sunday
- Maine sophomore forward Audra Richards has scored six of her seven goals this season in conference play.

Northeastern at Boston University – Sunday
- In last Sunday's loss to #7 Boston College, Northeastern goalie Chloe Desjardins (Saint-Prosper, Que.) was given an assist on Katie MacSorely's first period goal. It was the second assist of Desjardins' college career.