WEEKEND PREVIEW: THREE 2-GAME LEAGUE SERIES HIGHLIGHT WEEKEND
- UConn-UVM, PC-UNH and #7 BC-NU Play Two; #8 BU Visits Maine for One -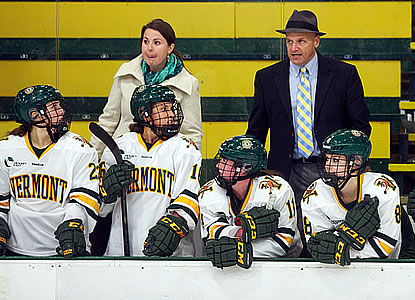 Vermont hosts a two-game set against UConn this weekend
UConn at Vermont - Two-Game Series (Fri., Sat. at Gutterson)
- Starting with and including this weekend's matchup in Burlington, Vermont, Connecticut closes out its season with 15 straight league contests. The Huskies finished their non-conference slate with a mark of 3-9-1.
- Through 21 games, UVM's Amanda Pelkey (Montpelier, Vt.) has already set new career highs in goals (15) and points (26), while tying her career-high of 11 assists.

Providence vs. New Hampshire - Two-Game Series (Fri. at the Whit; Sat. at Schneider)
- PC senior forward Corinne Buie (Edina, Minn.) has four goals and nine assists for 13 points in six Hockey East contests this season.
- Through seven league games, New Hampshire has killed off 31-of-33 opponents' power plays, for a penalty kill rate of 93.9%.

#7 Boston College vs. Northeastern - Two-Game Series (Sat. at Conte; Sun. at Matthews)
- The Eagles took down the Huskies 6-1 back on Nov. 10 at Conte Forum, behind a pair of four-point performances from Dana Trivigno (Setauket, N.Y.) and Emily Field (Littleton, Mass.), who each had two goals and two assists.
- Northeastern has scored exactly two goals in each of their last seven games.

#8 Boston University at Maine - (Sat. at Alfond)
- The Terriers had a 5-game winning streak snapped Wednesday night in a home loss to Boston College, 4-2. It was their first loss of the year. Maine, after enduring a 7-game losing streak in November, is now 2-1-2 in its last five games. BU swept Maine at home back on November 9-10, by scores of 4-2 and 5-1.