WEEKEND PREVIEW: BOSTON COLLEGE TRAVELS TO CORNELL; UNH HOSTS OHIO STATE
- Vermont visits Colgate for series; UConn competes in Nutmeg Classic; NU plays at Dartmouth -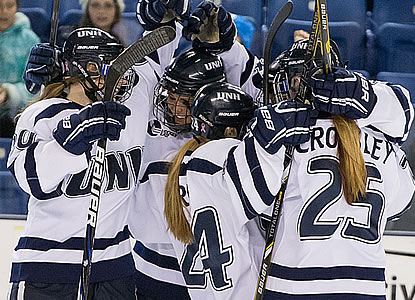 New Hampshire hosts Ohio State for a weekend series in Durham
UConn at Nutmeg Classic Tournament (Fri., Sat. at Quinnipiac, TD Bank Sports Center)
- Sophomore Michela Cava (Thunder Bay, Ont.) has four points (1g,3a) in her last three games for the Huskies.
- UConn senior goaltender Sarah Moses (New Hamburg, Ont.) has averaged 35.7 saves in her seven starts so far this season, notching 30+ saves in five of the seven contests.

Maine at Robert Morris (Fri.), at Penn State (Sat.)
- Sophomore Audra Richards (Maplewood, Minn.) has a goal in each of her last two games for the Black Bears. She had notched two goals in her first 12 games of the season.

No. 8 Boston College at No. 3 Cornell - Two-Game Series (Fri., Sat. at Lynah Rink)
- Haley Skarupa's (Rockville, Md.) 13 goals leads the nation and her 23 points is tied for fourth.
- The Eagles own the third best scoring offense in Div. I at 3.93 goals per game, while Cornell leads the nation, potting 4.50 goals per contest.

Northeastern at Dartmouth (Friday at Thompson Arena)
- Senior Kelly Wallace (Libertyville, Ill.) has five points (2g,3a) in her last four games for the Huskies.
- Friday's game at Dartmouth will bring an end to Northeastern's six-game spell away from Matthews Arena, which began on Nov. 10 and brought the Huskies to four states to take on five different opponents. When Northeastern hosts Boston University on Dec. 3, it will mark its first home game in 31 days, its longest span away from home since 2008. NU is 1-4 on the current trip, but four of the five games have been one-goal contests.

Ohio State at New Hampshire - Two-Game Series (Sat., Sun on LWN at Whittemore Center)
- New Hampshire has an 8-1-0 lifetime record against Ohio State but these programs have not faced off since October 2002, when the Wildcats recorded 1-0 and 5-4 (overtime) victories on the road. UNH has a 4-1-0 home record vs. the Buckeyes, who last visited the Whittemore Center in October 2001.

Vermont at Colgate - Two-Game Series (Sat., Sun at Starr Rink)
- Dayna Colang (Fairbanks, Alaska ) is the highest scoring defenseman in Hockey East and fourth in the NCAA with seven goals and eight assists for 15 points in 15 games this season. Eight of her points including four goals have come on the power play. She is currently on a five-game point streak, she has three goals and five assists over that span.
- Vermont's power play is ranked seventh in the nation and is clicking at 19.2% (14 for 73). In six of Vermont's seven wins this season the power play has converted at least once.