WEEKEND PREVIEW: VERMONT TRAVELS TO BU, UCONN; MAINE HOSTS TWO GAMES AT ALFOND
- Boston College, Providence skate in home-and-home set; UNH entertains BU, travels to NU -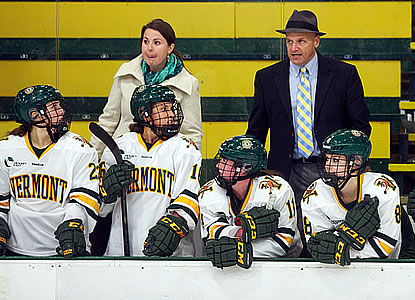 Vermont travels to UConn and Boston University this weekend
Vermont at Connecticut (Fri.), at Boston University (Sat.)
- The Huskies and Catamounts have taken to the ice 24 times in the all-time series, with UConn leading 18-4-2. Last year Vermont swept three meetings with Connecticut.
- Senior Kerrin Sperry (North Readin, Mass.) has the best GAA (1.74) and save percentage (.946) in the league. The Terrier penalty kill is the best in the conference as well, holding opponents to only three power-play goals in 31 chances (90%).
- Vermont's power play was 3-for-3 in its last game against Robert Morris, the Catamounts are 7 for 31 (22.6%) this season good for ninth in the country. Vermont's offense is producing 2.86 goals per game, which is 12th in the nation.

Northeastern (Fri.), Connecticut (Sun.) at Maine (Alfond Arena)
- Maine's Meghann Tracy (Lake Peekskill, N.Y.) and Northeastern's Chloe Desjardins (Saint-Prosper, Beauce, Que.) rank first and second in the league in total saves with 229 and 229, respectively.
- The Huskies enter the weekend after sweeping RPI for UConn's first consecutive wins since 2011. UConn has matched its win total from last season after just seven games under new head coach Chris MacKenzie.

Boston University at New Hampshire (Friday at the Whittemore Center)
- UNH ranks No. 10 in the nation in offense (3.12 gpg) and No. 15 in defense (2.38 gpg).
- New Hampshire has a 20-10-3 lifetime record against Boston U. and that includes last season's 1-2-0 mark in which the Wildcats were 4-2 victors at home (Nov. 9). The home team has won six of the last seven games. In the last five years, BU has a 10-4-3 record against the Wildcats.

No. 6 Boston College vs. Providence College (Fri. at PC; Sun. at BC)
- Providence and Boston College will meet for the 73rd and 74th time this weekend, with Providence holding the edge 50-19-3 in the all-time series record. Last season, the Eagles swept the Friars in the three-game Hockey East series and outscored them 15-6 on the series.
- Senior defenseman Rebecca Morse (Westfield, N.J.) leads the Friars in scoring against the Eagles with eight points in 10 career games played against Boston College.

New Hampshire at Northeastern (Sunday at Matthews Arena)
- Sunday's game at Northeastern will be the 122nd meeting between the Wildcats and Huskies. UNH has a 78-34-9 record with NU (2-1-0) winning last year's season series. The road team won all three games in 2012-13. NU has a 6-2-1 edge the past three seasons.
- Junior netminder Chloe Desjardins stopped 35 BU shots Tuesday, marking a season-high and the second consecutive game and third overall in which she has had to make at least 30 saves.