WEEKEND PREVIEW: BOSTON COLLEGE ENTERTAINS MAINE TO OPEN LEAGUE PLAY SUNDAY
- UConn heads to UMD; UNH, NU host Syracuse, RIT; PC travels to Union; UVM entertains Penn St. -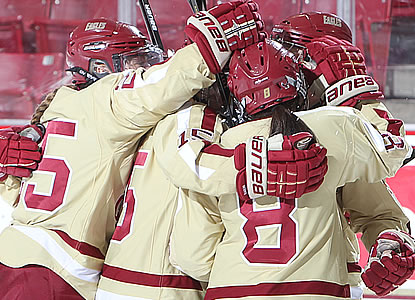 Boston College hosts Maine on Sunday in the first league game of the season
Connecticut at Minnesota-Duluth - Two-Game Series (Fri., Sat. at AMSOIL Arena)
- Huskies' junior forward Rachel Farrel (Cheshire, Conn.) scored both of UConn's goal in the 3-2 season-opening loss to Union last Saturday, en route to Hockey East Co-Player of the Week honors.

RIT (Fri.), Syracuse (Sat.) at New Hampshire (at the Whittemore Center)
- UNH has a 12-0-0 lifetime record against RIT, but these programs have not met since Dec. 3, 1994. UNH has won all eight home games vs. the Tigers.
- Senior forward Nicole Gifford (Ennismore, Ont.) is on the verge of recording her 50th career point. She enters the weekend with 48 points (19g,29a) in 102 games as a Wildcat.

Syracuse (Fri.), RIT (Sat.) at Northeastern (at Matthews Arena)
- Northeastern defeated Syracuse in the schools last meeting on Oct. 6, 2012 by a 5-2 score. Chloe Desjardins (Saint-Prosper, Beauce, Que.) notched 34 saves in the game, as the Huskies went 3-for-6 on the power play.
- Senior forward Kelly Wallace (Libertyville, Ill.) returns as the teams leading point and goal scorer from a season ago with 28 points and 16 goals in 36 games.

Penn State at Vermont - Two-Game Series (Fri., Sat. at Gutterson Fieldhouse)
- The Catamounts return First-Team All-Star goaltender Roxanne Douville (Beloeil, Que.) in net. Douville made 824 saves last year, which was second best among league goaltenders and her 590 saves and .923 save percentage was best in league action.

Providence at Union - Two-Game Series (Fri., Sat. at Messa Rink)
- Providence is 11-3-2 all-time on the road in season opening games. Providence holds the edge with a 3-0-0 all-time record vs. Union. Providence blanked Union, 4-0, in their last meeting on Nov. 25, 2012 with freshman Sarah Bryant (Bethlehem, Pa.) posting her first career shutout with 24 stops.

Maine at No. 2 Boston College (Sunday at Conte Forum)
- The Eagles won all four meetings between the two teams, including a 2-1 overtime game in the Hockey East quaterfinal round in their last meeting. BC outscored the Black Bears 23-5 in three regular-season meetings in 2012-13.