2012-13 New England Division I Women's Hockey All-Stars & Awards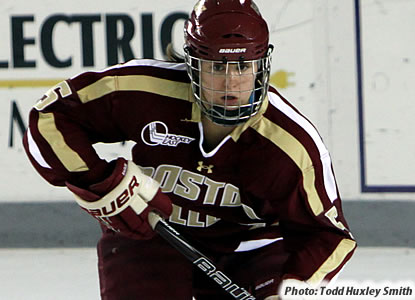 BC sophomore forward Alex Carpenter was named New England's Most Valuable Player
BOSTON - The New England Hockey Writers Division I All-Star teams and awards have been finalized after tallying votes from all Division I coaches and respective media outlets throughout New England. This year's banquet will be held on Tuesday, April 16 at the Prince Restaurant in Saugus, Mass. The banquet will start at 6 p.m. All awards and All-Star teams will be presented at the gala. All coaches, student-athletes, family members and friends are encouraged to attend Tuesday's banquet. Please contact Kristen Blake at (781) 245-2122 or by email at intern@hockeyeastonline.com for information on attending this event. Cost is $40 per person.
Boston College sophomore forward Alex Carpenter, recently tabbed a Second-Team All-American, added to her breakout season after getting voted as New England's Division I Women's Player of the Year. The North Reading, Mass., native directed Hockey East in scoring this year with 69 points (32-27-69), yielding Hockey East Player of the Year honors on March 8. Carpenter touted a league-record 24-game point streak from Oct. 21 to Feb. 2.
Katie King Crowley of Boston College collected New England Division I Women's Coach of the Year honors after leading the Eagles to their most successful season in program history. The sixth-year head coach strung together a record of 27-6-3 en route to BC's third consecutive Frozen Four appearance. Crowley was named Hockey East Coach of the Year and also recognized as one of six finalists for the FlexxCoach/AHCA Division One Women's Hockey Coach of the Year award.
The Women's Division I New England All-Star Team consists of six forwards, four defenseman and two goaltenders.
Carpenter headlines the All-New England forwards corps for the second-consecutive season while Northeastern's Kendall Coyne (37-31-68), Quinnipiac's Kelly Babstock (28-27-55) and Harvard's Jillian Dempsey (24-21-45) also make a return trip to the New England Women's Division I All-Star Team. Boston University junior forward Marie-Phillip Poulin (19-36-55) and Boston College rookie Haley Skarupa (24-29-53) get their first nod to round out the All-New England forward contingent.
Eagles' senior Blake Bolden (6-23-29) is the only defenseman to return to the All-New England blue line unit. Quinnipiac senior Regan Boulton (6-24-30), BU junior Shannon Doyle (6-18-24) and Boston College sophomore Emily Pfalzer (4-13-17) earn their first All-New England honors to make up the four-man defensive listing.
BC senior Corinne Boyles (22-5-1) and Vermont junior Roxanne Douville (5-15-4) are the two New England Women's Division I All-Star goaltenders. Boyles was 11th in the NCAA in save percentage (.927) and finished 12th in the country with a 1.83 goals against average, winning 22-of-28 starts. Douville's .923 save percentage in conference action was tops in Hockey East.
---
2012-13 New England Women's Division I All-Stars and Awards
GOALTENDERS
Corinne Boyles, Sr., G, Wheaton, Ill. (Boston College)
Roxanne Douville, Jr., G, Beloeil, Quebec (Vermont)
DEFENSEMEN
Blake Bolden, Sr., D, Stow, Ohio (Boston College)
Shannon Doyle, Jr., D, Baldwin, Ontario (Boston University)
Regan Boulton, Sr., D, Brandon, Manitoba (Quinnipiac)
Emily Pfalzer, So., D, Getzville, N.Y. (Boston College)
FORWARDS
Alex Carpenter, So., F, North Reading, Mass. (Boston College)
Kendall Coyne, So., F, Palos Heights, Ill. (Northeastern)
Marie-Philip Poulin, Jr., F, Beauceville, Quebec (Boston University)
Kelly Babstock, Jr., F, Mississauga, Ontario (Quinnipiac)
Jillian Dempsey, Sr., F, Winthrop, Mass. (Harvard)
Haley Skarupa, Fr., F, Rockville, Md. (Boston College)
DIVISION I WOMEN'S COACH OF THE YEAR
Katie King Crowley (Boston College)
DIVISION I WOMEN'S PLAYER OF THE YEAR
Alex Carpenter, So., F, North Reading, Mass. (Boston College)