11TH ANNUAL WHEA TOURNAMENT SEMIFINAL PAIRINGS SET
~No. 1 BU faces No. 5 Providence; No. 2 BC squares off with No. 3 Northeastern~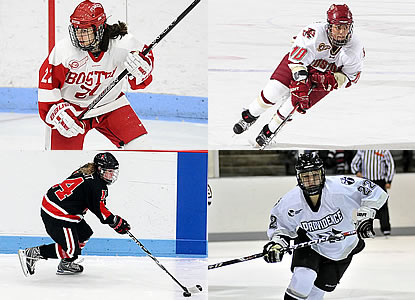 BU, BC, NU and PC have advanced to the 11th Annual WHEA Championship Tournament
WAKEFIELD, Mass. - The Women's Hockey East Association announced the pairings for the 11th annual Championship hosted by the Hyannis Youth and Community Center at Lt. Joseph P. Kennedy Rink on Saturday, March 9th and Sunday, March 10th in Hyannis, Mass.
Top seed Boston University (24-5-3 overall, 18-2-1 WHEA) will face No. 5 Providence College (15-15-5, 8-10-3 WHEA) in the first semifinal on Saturday, March 9 at 12:30pm. The Terriers advanced with a 5-1 win against No. 8 Connecticut in the quaterfinal playoff on Saturday afternoon, while Providence earned a 5-4 overtime win at No. 4 UNH. The game is a rematch of 2012 Hockey East Championship Game, the Terriers won the contest in double overtime, 2-1. BU owns a 8-3 all-time record in the tournament, while the Friars' record stands a 13-7 all-time, including a 6-4 mark in semifinal play.
No. 2 seed Boston College (26-5-3, 17-2-2 WHEA) will skate with No. 3 Northeastern (22-10-2, 13-7-1 WHEA) at 3:30pm on Saturday. The Eagles advanced to the semifinals with a 2-1 overtime win on Friday night vs. No. 7 Maine at Conte Forum. Northeastern moved to the next round with a 5-1 victory against No. 6 Vermont on Saturday night at Matthews Arena. The game is a rematch of 2011 Hockey East Championship Game, the Eagles won their first tournament title in school history with a 3-1 triumph vs. the Huskies. BC owns a 5-6 all-time record in the tournament with a 3-3 record in the league semifinals, while NU has a 3-5 mark in tournament play.
Providence College won the first three WHEA Tournament Championships (2003, 2004, 2005), New Hampshire then won four straight league tournament titles (2006, 2007, 2008, 2009) and followed most recently by Boston College (2011) and Boston University in 2010 and 2012.
The Hockey East Championship Game will be played on Sunday, March 10th at 1 p.m. The game will be tape delayed on the New England Sports Network (NESN) at 4pm, following NESN's Boston Red Sox spring training coverage. Both semifinals games will be broadcast live on the internet by Pack Network at www.hockeyeastonline.tv. Games will be sold on an individual basis for $8.95.
Tickets for the 11th annual WHEA Championship are $8 for general admission, and $5 for groups of 10 or more and can be ordered via mail order at www.hockeyeastonline.com. Tickets are also onsale in advance at the HYCC box office. The Women's Hockey East Association is an eight-team, Division-I college hockey conference which began play in 2002- 2003, with offices based in Wakefield, Mass. The league also sponsors an 10 team men's league which began play in 1984- 1985.
---
2013 WOMEN'S CHAMPIONSHIP SCHEDULE
Semifinals - Saturday, March 9
(at Lt. Joseph P. Kennedy Rink, Hyannis Youth and Community Center, 141 Bassett Ln., Hyannis, Mass.)

No. 5 Providence vs. No. 1 Boston University (12:30pm)
(Live on Pack Network at www.hockeyeastonline.tv)

No. 3 Northeastern vs. No. 2 Boston College (3:30pm)
(Live on Pack Network at www.hockeyeastonline.tv)
11th annual Hockey East Championship Game (1pm) - Sunday, March 10
(at Lt. Joseph P. Kennedy Rink, Hyannis Youth and Community Center)
Tape Delay on New England Sports Network, NESN (4pm)