WEEKEND PREVIEW: TOP SEED BU HOSTS UCONN; BC ENTERTAINS MAINE IN QUARTERFINAL PLAYOFF
~ Northeastern entertains Vermont; UNH plays host to Providence ~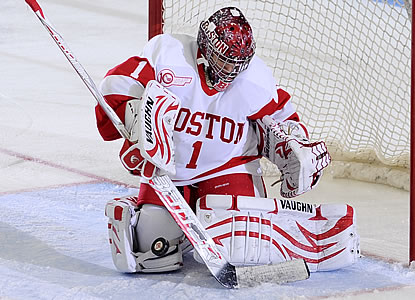 Top-seeded Boston University will play Connecticut on Saturday afternoon
No. 7 seed Maine at No. 2 Boston College (Friday at Conte Forum, 7pm)
- The Eagles swept the season series vs. Maine by a combined score of 23-5 in the three contests, which inlcuded a 6-3 BC win in the last meeting at Alfond Arena on February 2.
- BC's Alex Carpenter (Reading, Mass.) finished league play with 48 points (25g,23a), a new single-season conference record to take home the Turfer Athletic Scoring Champion crown. She eclipsed the record of 39 points held by UNH's Sadie Wright-Ward set in the 2005-06 season.
- The game marks the schools first meeting in the Hockey East Tournament. The Eagles own a 4-6 all-time mark in the league's tournament and are 0-1 all-time in quarterfinal play. The Black Bears have not won a conference tournament game in five tries.

No. 5 Providence College at No. 4 New Hampshire (Saturday at the Whittemore Center, 1pm)
- The Wildcats won the season series, 1-0-2 against the Friars. The teams have combined for seven of the 10 tournament championships in the league's history. The Friars won the first three titles (2003-05) and New Hampshire (2006-09) won the next four tournament titles.
- UNH owns a 3-2 all-time mark vs. PC in the league tournament, which included the last meeting in 2009 in semifinal play, a 3-1 UNH victory.
- Senior forward Kristina Lavoie (Fonthill, Ont.) has amassed 11 points (8g,3a) for the Wildcats in 12 career games vs. the Friars.

No. 8 Connecticut at No. 1 Boston University (Saturday at Walter Brown Arena, 3pm)
- The Terriers, who won their second regular-season title in school history with a 18-2-1 record, have won the only meeting vs. the Huskies in the tournament in 2010, a 2-1 overtime victory in the Hockey East Title Game.
- BU just completed a 3-0 series sweep vs. UConn the past weekend with two wins and won the league championship on Sunday with a 4-1 victory at Freitas Ice Forum.
- Senior forward Jenelle Kohanchuk (Winnipeg, Man.) has nine points (5g,4a) in her last three games for the Terriers.

No. 6 Vermont at No. 3 Northeastern (Saturday at Matthews Arena, 7pm)
- The Huskies won the season series vs. UVM, 2-0-1, including a 6-3 score in the last meeting on January 27.
- It marks the Catamounts first playoff appearance in school history. Northeastern is 2-5 all-time in tournament play and have a 1-2 record in quarterfinal play.
- Roxanne Douville's (Beloil, Que.) .923 save percentage for the Catamounts was best in league play and her 590 saves was most of any conference netminder.