WEEKEND PREVIEW: NO. 5 BOSTON COLLEGE, NO. 10 NORTHEASTERN TRAVEL TO NORTH COUNTRY
~ Vermont hosts Colgate for pair; Maine travels to Brown for series; ~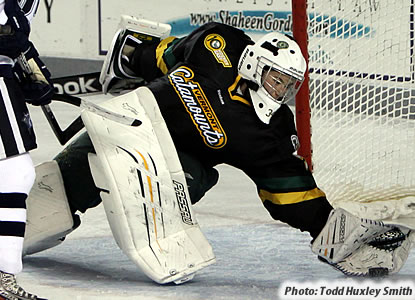 Vermont hosts Colgate for a two-game series this weekend at Gutterson Field House
Princeton at Connecticut (Thursday at Freitas Ice Forum)
- The Huskies were victorious in the first meeting last night by a 5-1 score. Kayla Campero had a game-high four points (2g,2a), while freshman Brittany Berisoff added a career-high three points (2g,1a) in the victory. Elaine Chuli stopped 25 shots in her first career victory for the Huskies. UConn was a perfect 4-for-4 on the penalty kill on the night.
No. 10 Northeastern at St. Lawrence (Thurs.), at No. 2 Clarkson (Fri.)
- Northeastern's special teams has been the key to the Huskies' success in 2012-13; NU is fourth in the nation in power play percentage (27.9%), fifth in penalty killing (90.5%) and third in combined special teams (59.7%).
- Sophomore forward Kendall Coyne (Palos Heights, Ill.) has led the charge for the Huskies so far this season, and has 24 points (11g,13a) in her last 11 games, including eight multi-point games and four multi-goal games. She was named Athletic Republic Player of the Month on Thursday in December with six points (4g,2a) in three games.

No. 5 Boston College at No. 2 Clarkson (Thurs.), at St. Lawrence (Fri.)
- The Eagles come into the weekend with a 12-game unbeaten streak (10-0-2), which is second longest in the country, only trailing Minnesota, who has amassed 20 straight victories.
- Haley Skarupa (Rockville, Md.) and Alex Carpenter (Reading, Mass.) currently rank tied for third in the league in overall scoring with 26 points apiece.

Colgate at Vermont - Two-Game Series (Sat., Sun. at Gutterson Fieldhouse)
- Roxanne Douville (Beloiil, Que.) was named Hockey East Goaltender of the Month on Thursday for her backto- back road shutouts at UConn in early December. Her 403 saves in second most of any Hockey East netminder and she has started the last eight games for the Catamounts.

Providence at Yale (Saturday at Ingalls Rink)
- The Friars have allowed only 17 of 71 goals (24%) in the first period this season.
- Senior forward Nicole Anderson's (Jordan, Minn.) 13 goals are tied for second most among league skaters for the Friars.

Maine at Brown - Two- Game Series (Sat., Sun. at Meehan Auditorium)
- Senior forward Brittany Dougherty (Chesterfield, Mich.) is in the midst of a four-game point streak with five points (3g,2a) during that span for the Black Bears.