WEEKEND PREVIEW: UCONN, PROVIDENCE MEET FOR TWO-GAME SET; UNH TRAVELS TO VERMONT FOR PAIR
~ No. 3 Boston U. hosts Northeastern; No. 2 BC travels to Maine Saturday ~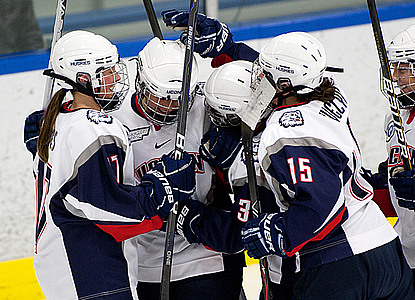 Connecticut will face Providence College in a home-and-home series this weekend
Providence vs. Connecticut - Two-Game Series (Fri. at UConn, Sat. at PC)
- The Friars won the first meeting of the season series by a 5-3 score back on November 10 at Schneider Arena. Nicole Anderson (Jordan, Minn.; 2g,1a) and Brooke Simpson (Boxboro, Mass.; 3a) notched a game-high three points for Providence in the victory.
- Providence has won four of its last six games with five of those six games being one-goal contests.
- Freshman goaltender Elaine Chuli (Waterford, Ont.) has started 12 of the last 14 games for the Huskies. She has amassed 30+ saves in five of those starts.

New Hampshire at Vermont - Two-Game Series (Fri., Sat. at Gutterson Fieldhouse)
- The Catamounts won the first meeting of the season series back on October 16 at the Whittemore Center (4-3). UNH outshot Vermont, 38-20. Klara Myren (Leksand, Sweden) had a career-high four points (2g,2a) in the Vermont victory.
- UNH's penalty kill is best in league play at 84.1% (37-44), while Vermont ranks second at 82.5% (47-57).
- Sophomore forward Brittany Zuback (Thunder Bay, Ont.) has three assists in her last two games for the Catamounts. She leads the team in scoring with 20 points (10g,10a) in 24 games.

Northeastern at No. 3 Boston University (Saturday at Walter Brown Arena)
- The Terriers have won both meetings of the season to date, which included a 5-4 win back on Jan. 16th. Freshman Sarah Lefort (Ormstown, Que.) had a hat trick in that game.
- Northeastern's Rachel Llanes (San Jose, Calif.) has two goals and three assists in her last three games, and is nine points away from 100 in her career. Kendall Coyne (Palos Heights, Ill.) has nine goals and five assists in her last five games.
- Boston University is in the midst of a 12-game (10-0-2) unbeaten streak, which is currently second longest in the country only to Minnesota. They have outscored their opponent 53 to 25 during the streak.

No. 2 Boston College at Maine (Saturday at Alfond Arena)
- Boston College won both previous meetings this year with the Black Bears by a combined score of 17 to 2. Freshman forward Haley Skarupa (Rockville, Md.) recorded five points (3g,2a) in the win back on Nov. 30th, while classmate Dana Trivigno (Setauket, N.Y.) totaled five points (3g,2a) in the victory on Dec. 1st.
- Sophomore forward Alex Carpenter (Reading, Mass.) is in the midst of a league-record 23-game point streak. Carpenter has amassed a league-best 50 points (21g,29a) in 25 games (2.00 ppg).
- The Eagles have scored a league-high 34 goals (40.4%) in the third period this season of league play.