35th Annual Women's Beanpot Honors Three Alumnae
Julie Chu, Kelly Dyer Hayes and Genevieve Missirlian Vartian To Join Hall of Fame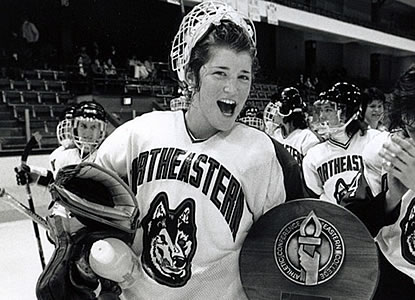 Kelly Dyer Hayes (NU Class of 1990) has been named to the Women's Beanpot Hall of Fame
Three alumnae of Women's Beanpots past will be recognized as the Class of 2013 Beanpot Hall of Famers on Tuesday, February 5, when the 35th Annual Women's Beanpot Tournament opens up at Northeastern University's Matthews Arena. The induction will take place between games of opening night play.
This year's Women's Beanpot schedule matches #2 in the nation Harvard vs. #3 Boston College at 5:00 p.m. The late game (8:00) will feature host Northeastern vs. #5 Boston University. The consolation and championship games are slated for 5:00 and 8:00, respectively, on Tuesday, February 12.
This year's Women's Beanpot Hall of Fame honorees are:
Julie Chu, Harvard University Class of 2006-07

- Led Harvard to Beanpot championships in 2003, 2004 and 2005.
- Recorded four goals and 17 assists in Beanpot tournament contests, including two goals and eight assists in three title game appearances.
- Third on Harvard's all-time scoring list with 284 points.
- Owns the most assists in Harvard history with 196.
- Three-time Olympian, Kazmaier Award Winner in 2007.
- Currently an assistant coach at Union College.

Kelly Dyer Hayes, Northeastern University Class of 1990

- Part of four Beanpot championship teams from 1986-89.
- Had a personal record of 3-0-0 with two shutouts.
- She is fourth all-time in both career wins and save percentage at Northeastern with 49 and .922, respectively.
- Her 2.08 career goals against average is fifth best all-time at NU.
- Was a member of Team USA in pre-Olympic era and also played men's professional ice hockey.
- Inducted into the Northeastern University Athletic Hall of Fame in 1995.
- received the Joe Burke Award from the American Hockey Coaches Association in 2011.
- Currently a sales rep for Brian's and Easton.

Genevieve Missirlian Vartian, Boston College Class of 1999

- She tallied 6 goals and 10 assists in her 8 Beanpot Games.
- She remains BC's all time leading point scorer for a defenseman with 29 goals and 54 assists for a total of 83 points.
- With her 29 goals, she is also the all time leading goal scorer for a defenseman at BC.
- Led BC to a 4-4 record in her four years, reaching the championship game in 1996 and 1999.

Please click here for PDF that includes complete Women's Beanpot Hall of Fame list.