WEEKEND PREVIEW: VERMONT MAKES TRIP FOR SERIES AT MAINE; NO. 3 BC TRAVELS TO NO. 7 MERCYHURST
~ No. 10 NU hosts PC for Skating Strides; UConn skates in home series with UNH ~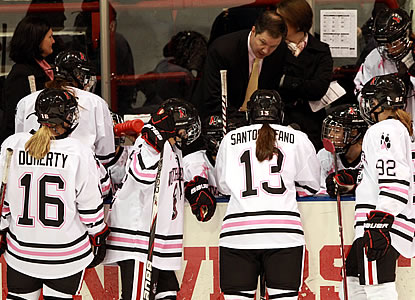 Northeastern hosts Providence College on Sunday on ESPN3 in a Skating Strides game
Vermont at Maine - Two-Game Series (Fri., Sat. at Alfond Arena)
- The Black Bears swept the season series last year and outscored the Catamounts by a combined 12-3 score in the three meetings.
- Vermont's penalty kill (85.4%; 35-41) and scoring defense (2.90) both rank second in league play.
- Maine senior Brittany Ott (St. Clair Shores, Mich.) has started the last four games for the Black Bears and has amassed 30+ saves in three of those four starts.

No. 3 Boston College at No. 7 Mercyhurst - Two-Game Series (Fri., Sat. at Mercyhurst Ice Center)
- Senior Corinne Boyles (Wheaton , Ill.) is currently on a 14-game winning streak (1.67 GAA, .928 save%) for the Eagles in goal.
- BC freshman Haley Skarupa (Rockville, Md.) has 21 points (12g,9a) in her last eight games (2.63 ppg). Skarupa leads league play with 28 points (13g,15a) and her 1.89 points per game overall ranks sixth in the nation.
- The Eagles own a league-best 6-1-1 record in non-league play this season.

New Hampshire vs. Connecticut - Two-Game Series (Sat., Sun. at Freitas Ice Forum)
- The Wildcats are coming off a 4-2 victory at Union on Tuesday night. Freshman defenseman Megan Armstrong (Edina, Minn.) notched a game-high three points for the Wildcats, while Jenn Gilligan (Maple Ridge, B.C.) stopped 26 shots in her fifth win of the season.
- UNH took the season series last year between the two schools, 2-1, but UConn won the most recent meeting on Feb. 5, 2012 by a 6-3 score at Freitas Ice Forum.

Providence at No. 10 Northeastern (Sunday at Matthews Arena on ESPN3, Skating Strides Game)
- Providence's young squad is being led by not just their four person senior class but their six person sophomore class as well. The two classes have each notched 49 points apiece this season for a combined total of 98 of the 174 team points this season (56%).
- Northeastern won the regular-season series with PC last year, 2-0-1, but the Friars were victorious in the league semifinal playoff game in March in 2-0 shutout vs. the Huskies at the Hyannis Youth and Community Center. Now sophomore Haley Frade (Marion, Mass.) recorded the game-winner in the most recent meeting on Cape Cod.