WEEKEND PREVIEW: PROVIDENCE, NEW HAMPSHIRE TAKE ON NO. 4 HARVARD; NO. 7 BU TRAVELS TO UMD
~ Maine entertains ECAC foe Dartmouth for pair at Alfond Arena ~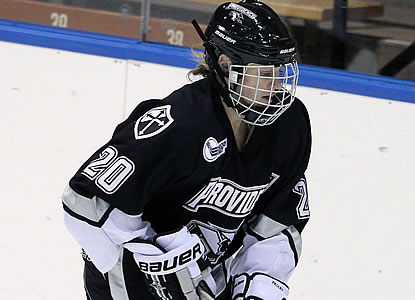 Providence College travels to No. 4 Harvard on Friday night
Providence at No. 4 Harvard (Fri. at the Bright Hockey Center)
- The Friars tied Brown, 2-2, in their only other game vs. an ECAC opponent so far this season.
- Senior Nicole Anderson (Jordan, Minn.) recorded her third career hat trick and second of the season in her last game on December 1st in the 6-4 loss at Boston University.
- The majority of Friar goals have come in the second period, with 23 of their 58 goals scored in the second period.

No. 7 Boston University at Minnesota-Duluth - Two-Game Series (Sat., Sun. at AMSOIL Arena)
- The Terriers are 7-0-0 when senior Jenelle Kohanchuk (Winnipeg, Man.) scores a goal and an impressive 10-1-0 when she notches at least one point this season.
- This weekend will feature the first two all-time meetings between BU and Minnesota-Duluth.
- BU has scored three shorthanded goals in the last four games and went 4-for-9 (44%) on the power play this past weekend.

No. 4 Harvard at New Hampshire (Sat. at the Whittemore Center)
- The Wildcats fell to No. 6 Boston College in their last game on Wednesday night by a 4-1 score at the Whittemore Center. Alexis Crossley (Cole Harbour, N.S.) scored her sixth goal of the season in the loss for UNH. Crossley's six goals on the season are tied for the team lead.
- UNH's power play ranks third in the league at 21.4% (15-70).

Dartmouth at Maine - Two-Game Series (Sat., Sun. at Alfond Arena)
- Audra Richards' (Maplewood, Minn.) five goals for the Black Bears this season ranks tied for seventh among league rookies.
- Brittany Ott (St. Clair Shores, Mich.) has started the last four games in goal for the Black Bears and has notched 30+ saves in three of those four starts.