WEEKEND PREVIEW: UNH HOSTS NO. 5 BU FRIDAY; VERMONT TRAVELS TO NO. 8 NORTHEASTERN FOR TWO
~ Providence entertains UConn, UNH; Maine heads to Bemidji State for series ~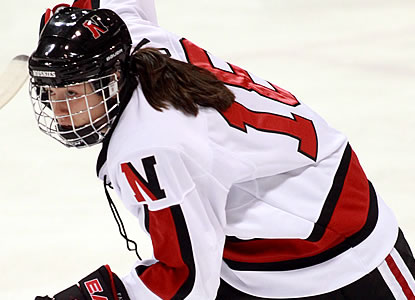 Northeastern hosts a two-game set against Vermont this weekend
No. 5 Boston University at New Hampshire (Fri. at the Whittemore Center)
- The Terriers won the season series last year, 2-1 and won the most recent meeting in the WHEA quarterfinals by a 9-1 score on February 26. BU outscored UNH, 19 to 4 in its three victories, scoring at least five goals in all three wins. BU senior Isabel Menard (Ottawa, Ont.) tortured the Wildcats last season, as she notched 12 points (4g,8a) in four games against them last season. UNH senior forward Kristine Horn (Utica, Mich.) has amassed 10 points (5g,5a) in 11 career games vs. the Terriers.
- BU has allowed only three of its 17 goals in the first period this season of league play. The Terriers are the only team in the conference to feature four 10+ point scorers overall to date. BU is unbeaten in its last six league games (5-0-1) away from home.

Maine at Bemidji State - Two-Game Series (Fri., Sat. at the Sanford Center)
- Freshman Audra Richards (Maplewood, Minn.) four goals for the Black Bears ranked tied for fourth among Hockey East rookie skaters. She scored a career-high two goals last Friday vs. Providence at Alfond Arena.
- Sophomore goalie Megan Treacy (Lake Peekskill, N.Y.) has started five games for Maine this season and has averaged 28 saves per contest, while senior Brittany Ott (St. Clair Shores, Mich.) has started three games and has stopped 31.3 shots per game.

Vermont at No. 8 Northeastern - Two-Game Series (Sat., Sun. at Matthews Arena)
- Northeastern swept the season series vs. the Catamounts last year and scored at least four goals in every contest. The Huskies outscored Vermont by a combined scored of 14 to 4 in the three-game series.
- NU's Casey Pickett (Wilmington, Mass.) and Kendall Coyne (Palos Heights, Ill.) lead conference play with five goals apiece.

Connecticut at Providence College (Sat. at Schneider Arena)
- Junior Corinne Buie's (Edina, Minn.) 49 shots on goal for the Friars rank second best among conference skaters. She had posted a goal in four straight games for PC from Oct. 20 to 28.
- 13 different Huskies on the roster have scored a goal this season, including freshman forward Michela Cava (Thunder Bay, Ont.), who leads the UConn roster with five goals in 11 contests this year.
- Providence swept the season series last year with UConn and outscored the Huskies, 9 to 2, in three games, which included two shutouts.

New Hampshire at Providence College (Sun. at Schneider Arena)
- The Friars swept the season series with the Wildcats last year, scoring at least three goals in every game.
- Rebecca Morse (Westfield, N.J.) scored the lone goal for PC in the 6-1 loss on Wednesday at No. 8 BC.
- UNH freshman goalie Vilma Vaattovaara's (Veikkola, Finland) 230 saves this season is tied for the league lead, along with NU's Chloe Desjardins (Saint-Prosper, Beauce, Que.).
- This year's incoming class has accounted for 22 of New Hampshire's 48 points thus far (45.8%). Sara Carlson (Hutchinson, Minn.) and Jonna Curtis (Elk River, Mich.) lead the way with six points each.