WEEKEND PREVIEW: MAINE TRAVELS TO NO. 6 BC FOR SERIES; NO. 7 BU, PC PLAY HOME-AND-HOME
~ No. 9 Northeastern, UNH play two; UConn hosts Vermont for two-game set ~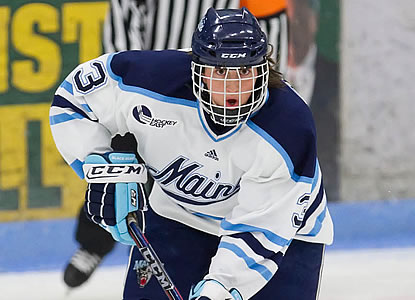 Maine travels to Boston College for a two-game WHEA weekend series
Maine at No. 6 Boston College - Two-Game Series (Fri., Sat. at Conte Forum)
- The Eagles won the season series with Maine last year, 2-1-0 with BC winning the last two meetings of the season at Maine, both of which were one-goal games.
- BC's Alex Carpenter (Reading, Mass.) ranks second in the league in overall scoring with 22 points (11g,11a) in 13 games for the Eagles. She currently has an 11-game point streak dating back to Oct. 21st and has amassed seven points (4g,3a) in her last four contests.
- Maine is tied with Northeastern for allowing a league-low 11 goals in the third period this season.

No. 7 Boston University vs. Providence College - Two-Game Series (Fri. at PC; Sat. at BU)
- The Terriers won the first meeting of the year by a 7-1 score on Nov. 16th at Walter Brown Arena. BU's line top line of Sarah Lefort (Ormstown, Que.;1g,2a), Marie-Philip Poulin (Beauceville, Que.; 2g,2a) and Jenelle Kohanchuk (Winnipeg, Man.; 2g,3a) recored 12 points in the game.
- BU junior goalie Kerrin Sperry (North Reading, Mass.) has allowed just three goals in her last 200:44 against Providence.
- Freshman netminder Sarah Bryant (Bethleham, Pa.) is 1-0-2 in her last three starts for the Friars, posting a 1.26 GAA and a .948 save percentage.

No. 9 Northeastern vs. New Hampshire - Two-Game Series (Sat. at UNH; Sun. at NU)
- The Huskies won the season series vs. the Wildcats last year, 2-0-1 and outscored UNH by a combined 16-4 score in the three contests.
- Northeastern is coming off a 3-1 loss to No. 5 Harvard on Tuesday night. Katie MacSorley (Stratford, Ont.) scored the lone goal of the game for the Huskies, while Chloe Desjardins (Saint-Prosper, Beauce, Que.) recorded 32 saves in the losing effort.
- UNH's power play (19.7%) and penalty kill (83.8%) both rank third overall among conference teams.

Vermont at Connecticut - Two-Game Series (Fri., Sat. at Freitas Ice Forum)
- Vermont won the first meeting of the season on Nov. 16th at Gutterson Fieldhouse (5-1). Amanda Pelkey (Montpelier, Vt.) recorded a game-high three points (2g,1a) for the Catamounts in the victory.
- Sophomore Emily Snodgrass (Eagan, Minn.) has recorded four points (1g,3a) in her last three contests for the Huskies.