WEEKEND PREVIEW: NO. 7 BU HOSTS PROVIDENCE IN REMATCH OF 2012 WHEA CHAMPIONSHIP GAME
~ No. 6 BC, No. 8 NU play home-and-home set; Vermont entertains UConn, PC ~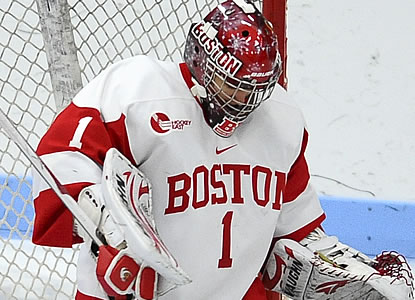 Boston University hosts Providence College and Harvard this weekend
Providence at No. 7 Boston University (Fri. at Walter Brown Arena)
- The Terriers won the season series last year, 2-1, and BU won the last meeting of the year in the Hockey East Championship Game back on March 4, a 2-1 double overtime game at HYCC. BU is 7-2-1 all-time vs. Providence at home.
- Nicole Anderson (Jordan, Minn.) and Jessica Vella (Pickering, Ont.) have combined to score 15 of the Friars' 41 goals this season. Vella has scored a point in her last six games for Providence, which includes goals in her last two contests.
- BU junior goalie Kerrin Sperry (North Reading, Mass.) has allowed just two goals in her last 140:59 against Providence and owns a 4-1-1 all-time record against the Friars.

No. 6 Boston College vs. No. 8 Northeastern - Two-Game Series (Fri. at NU, Sun. at BC)
- The Eagles won the season series last year, 2-0-1 and the teams also tied in the most recent meeting (1-1) in the Beanpot last January 31st.
- The Eagles offense ranks fourth in the nation scoring 4.00 goals per game, while Northeastern ranks fifth in the nation allowing only 1.64 goals per game.

Connecticut at Vermont (Fri. at Gutterson Fieldhouse)
- The Huskies won the season series last year, 1-0-2 and only 11 goals total were scored in the three contests, including two 2-2 ties in December of last season.
- UVM sophomore Brittany Zuback (Thunder Bay, Ont. ) has scored seven goals this season in 12 games, which ranks tied for fifth among league skaters. She notched three goals in her freshman year in 32 contests.

New Hampshire at Maine (Sat. at Alfond Arena)
- Maine swept the season series last year with the Wildcats, 3-0, but the last two meetings were one-goal games.
- UNH's Megan Armstrong (Edina, Minn.) was named Pro Ambitions Rookie of the Week on Monday for her three-point effort (1g,2a) in the Wildcats' three-point weekend vs. BU and PC.

Providence at Vermont (Sun. at Gutterson Fieldhouse)
- PC junior goaltender Nina Riley (Lexington, Mass.) finished last weekend with 55 saves in 101:40 minutes of work for the Friars.
- The Friars won the first two meetings of the season series back on Oct. 20 (4-3) and 21 (4-1). PC outshot Vermont, 72 to 31 in the series at Schneider Arena.

No. 5 Harvard at No. 7 Boston University (Sun. at Walter Brown Arena)
- Junior Louise Warren (Pembroke, Ont.) has scored four goals in her last two games for the Terriers.
- The Terriers have a 3-1-0 record vs. ECAC teams so far this season.

St. Lawrence at Connecticut (Sun. at Freitas Ice Forum)
- Junior Sarah Moses (New Hamburg, Ont.) has started four of the last six games for the Huskies and has averaged 35.3 saves in those four starts.