WEEKEND PREVIEW: LEAGUE TEAMS KICKOFF FIRST FULL WEEKEND OF PLAY IN 2012-13
~ No. 4 Boston College hosts No. 6 Boston U. in conference opener Friday night ~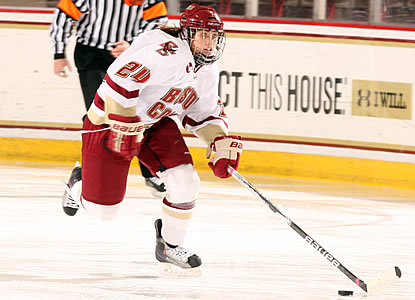 Boston College hosts Boston University in the first league game on Friday night
No. 6 Boston University at No. 4 Boston College (Fri. at Conte Forum)
- The Terriers won the season series last year, 2-1 and the most recent meeting in the WHEA semifinals last March by a 5-2 score at the Hyannis Youth and Community Center.
- BU has won its last eight league games and 11 of its last 12 contests against Hockey East opponents
- Junior Kerrin Sperry (North Reading, Mass.) has three career shutouts against the Eagles, including two at Conte Forum. She has also allowed just two goals in four starts on the road against the Eagles.

New Hampshire at Syracuse (Fri.) at Colgate (Sat.)
- The Wildcats owned a 6-6-1 record in non-league play last year with a 4-3-1 record vs. ECACH opponents and 2-1-0 record vs. CHA foes.
- UNH shutout Colgate last season, 3-0, but fell to Syracuse, 2-1, in Durham last October.

Bemidji State at Providence College - Two-Game Series (Fri., Sat. at Schneider Arena)
- PC junior Corinne Buie (Edina, Minn.) is the leading returning scorer from last season's roster with 26 points (11g,15) in 37 games. She has registered 50 career points (22g,28a) in 72 career games for the Friars.
- The Friars went 0-1-1 vs. Bemidji in a two-game set last year, as PC finished with three wins outside the league last season.

Connecticut at Rensselaer - Two-Game Series (Fri., Sat. at Houston Fieldhouse)
- UConn dropped its season opener last Saturday on the road to Union, 3-2. The Huskies got goals from sophomores Rachel Farrel (Cheshire, Conn.) and Caitlin Hewes (Stillwater, Minn.). Freshman Elaine Chull (Waterford, Ont.) notched 27 stops in net for Connecticut in her first career start.
- The Huskies open the season with seven straight road games before returning to campus to face Syracuse for a two-game series beginning on October 26.

Northeastern at Colgate (Fri.) at Syracuse (Sat.)
- The Huskies posted a 6-3-0 record in non-conference play in 2011-12 and posted a 5-3-0 mark against ECAC Hockey opponents.
- Sophomore Kendall Coyne's (Palos Heights, Ill.) 26 goals last year are the most of any returning WHEA player. Coyne notched an assist in the exhibition loss to the Boston Blades last Sunday, 6-4, at Matthews Arena.

Penn State at Vermont - Two-Game Series (Sat., Sun. at Gutterson Fieldhouse)
- The Catamounts will officially kickoff eighth varsity season under first-year head coach Jim Plumer on Saturday against CHA foe Penn State, who is playing its first Division I contests in Burlington over the weekend.
- Junior Roxanne Douville (Beloeil, Que.) will return this season as the starting goalie. She made 793 saves last season, which ranked fifth among WHEA goaltenders and ranks third among returning netminders this season.

Boston Blades at No. 6 Boston University (Sat. at Walter Brown Arena, Exh.)
- The Terriers have won six exhibition games in a row dating back to October of 2006 and have outscored opponents 34 to 11 in those games.