WEEKEND PREVIEW: NO. 6 BC HOSTS MINNESOTA-DULUTH; UNH TRAVELS TO WISCONSIN FOR SERIES
~ Maine heads south to No. 3 BU, No. 7 NU; PC faces SCSU; UConn hosts Syracuse ~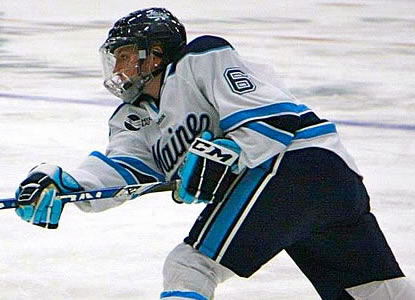 Maine travels to Boston for two Women's Hockey East games this weekend
Minnesota-Duluth at No. 6 Boston College - Two-Game Series (Thurs., Fri. at Conte Forum)
- Freshman forward Haley Skarupa (Rockville, Md.) scored the first two goals of her collegiate career last Sunday in the 5-2 win vs. UNH at Conte Forum. She currently leads the Eagles' roster with 17 shots on goal.
- BC won the last meeting vs. UMD on Oct. 9, 2011 by a 3-2 score. Forward Alex Carpenter (Reading, Mass.) notched three points in the games and Corinne Boyles (Wheaton, Ill.) stopped 27 shots in the Eagles' victory.

Maine at No. 3 Boston University (Fri. at Walter Brown Arena)
- Maine won the season series last year with BU, 2-1-0 and won the last two meetings of the year back on Jan. 14 and 15. Brittany Ott (St. Clair Shores, Mich.) registered 66 saves in those two victories.
- Senior forward Brittany Dougherty (Chesterfield, Mich.) leads the team with six points (2g,4a) in four games. She has amassed a point in her first four games of the season and has goals in back-to-back games for Maine.

Robert Morris at No. 7 Northeastern (Fri. at Matthews Arena)
- The Huskies own a league best 4-0-0 record in non-league play so far this season, including a 1-0 record vs. CHA opponents. The Huskies lead the all-time series, 3-1-0, vs. the Colonials.
- Sophomore Kendall Coyne (Palos Heights, Ill.) has registered a team-leading eight points and five goals in five games this season for the Huskies.

Syracuse at Connecticut - Two-Game Series (Fri., Sat. at Freitas Ice Forum)
- Forward Michela Cava (Thunder Bay, Ont.) is tied for the overall league rookie scoring lead with BU's Sarah Lefort with seven points (4g,3a) in seven games.

New Hampshire at Wisconsin - Two-Game Series (Fri., Sun. at LaBahn Arena)
- UNH leads the all-time series with Wisconsin, 6-2-1, but the 'Cats have lost the last two meetings.
- The Wildcats freshman class has accounted for 20 of New Hampshire's 41 points thus far (48.7%). Sara Carlson (Hutchinson, Minn.) and Jonna Curtis (Elk River, Minn.) lead the way with six points each.

Maine at No. 7 Northeastern (Sat. at Matthews Arena)
- Northeastern owns a 21-15-5 edge in the all-time series against the Black Bears, and is 5-0-2 against Maine since 2010. The Huskies have not lost to UM at Matthews Arena since Nov. 15, 2009.

Robert Morris at No. 3 Boston University (Sat. at Walter Brown Arena)
- The Terriers own a 3-1-0 record in non-conference games so far this season.
- Junior Marie-Philip Poulin's (Beauceville, Que.) 11 points (3g,8a) leads the league in scoring in overall games. She has a point in all six games for the Terriers and has amassed four multi-point efforts to date.

St. Cloud State at Providence College (Sat., Sun. at Schneider Arena)
- The Friars are coming off a weekend sweep of the Catamounts by scores of 4-3 and 4-1. Corinne Buie (Edina, Minn.) and Jessica Vella (Pickering, Ont.) tallied a goal in each game for Providence.