WEEKEND PREVIEW: VERMONT HEADS TO NO. 7 CLARKSON FOR TWO; PC VISITS NO. 9 MERCYHURST
~ No. 3 BU, No. 8 NU host Union, RPI; Maine travels to QU; UConn faces Colgate ~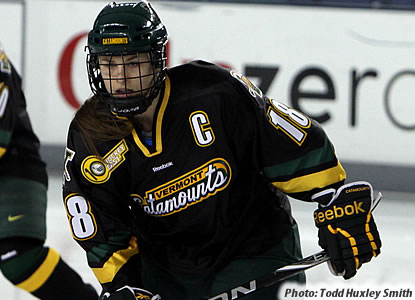 The Vermont Catamounts travel to No. 7 Clarkson for a weekend series
Maine at Quinnipiac - Two-Game Series (Fri., Sat. at TD Bank Sports Center)
- The Black Bears have had a week off since their 4-0 shutout of Dalhousie in exhibition play on Sept. 30. Maine scored three first period goals and outshot Dalhousie, 35-9 for the game.
- Maine won both meetings vs. Quinnipiac last season, both of which were one-goal contests (4-3, 5-4 OT). The Black Bears went 6-2-4 last year vs. non-conference opponents.

Union (Fri.), Rensselaer (Sat.) at No. 8 Northeastern (at Matthews Arena)
- Northeastern holds a 25-5-2 record all-time in home openers, which includes wins the last four openers.
- The Huskies have posted a 26-3-5 mark in the month of October dating back to 2008. NU was 6-1-0 in October last season, which included four straight wins to start the season. NU is 19-2-4 under head coach Dave Flint in October.
- WHEA Co-Defensive Player of the Week Chloe Desjardins (Saint-Prosper, Beauce, Que.) posted two wins last weekend at Colgate and Syracuse. She recordeded a .969 save percentage with 63 saves in the two games.

Rensselaer (Fri.), Union (Sat.) at No. 3 Boston University (at Walter Brown Arena)
- The Terriers owned a 6-5-1 record in non-league play last year with a 3-2-1 record vs. ECAC opponents.
- Freshman Sarah Lefort (Ormstown, Que.) was named Pro Ambitions Rookie of the Week on Monday for her two-goal effort last Friday night at Boston College.

Vermont at No. 7 Clarkson - Two-Game Series (Fri., Sat. at Cheel Arena)
- The Catamounts picked up their first win of the season last Sunday with a 3-1 victory vs. Penn State. Meghan Huertas (Boynton Beach, Fla.) and Klara Myren (Leksand, Sweden) each noted two points (1g,1a). UVM outshot Penn State 43-19 in the final game of the series Sunday afternoon.

Connecticut at Colgate - Two-Game Series (Fri., Sat. at Starr Rink)
- Sophomore forward Rachel Farrel (Chesire, Conn.) has scored three goals in three games for the Huskies this season. Farrel notched two goals in the 4-4 tie last Friday at Rensselaer. Her 11 shots on goal currently leads the UConn roster. She scored four goals in 34 games in her freshman season in 2011-12.

Providence at No. 9 Mercyhurst - Two-Game Series (Fri., Sat. at the Mercyhurst Ice Center)
- Affer falling 3-2 on Friday, Oct. 5, Providence will enter the weekend coming off a 5-1 win over Bemidji State. Freshman Molly Illikainen (Grand Rapids, Minn.) notched her first collegiate points, including one goal and two assists on the weekend.

Boston Blades at No. 5 Boston College (Exhibition, Saturday at Conte Forum)
- The Eagles have won all three exhibition games they have played dating back to 2003. BC has beat its opponents by a combined score of 10 to 1 in those three contests. WHEA teams have a 0-1-1 record in two exhibition games against the Blades this season.