Entering its 10th season of existence, the Hockey East Skating Strides program has raised nearly $300,000 toward the fight against breast cancer, including a single-season record of $45,215 in 2012. At the same time, the program has earned interest conferencewide with an increased attendance at and awareness of the women's hockey programs of each of the nine member institutions. In recent years, the program has grown to include all 12 men's programs as well, with many teams hosting Skating Strides weekends. Promotions have included specialty jerseys and uniforms and have even featured entire ice sheets dyed pink in support of the program.
Skating Strides has also given the student-athletes the opportunity to give back to the communities in which they study and play hockey. Through the efforts of the Hockey East association and its memeber schools, charitable donations have been made by Skating Strides to several New England organizations, including the Patrick Dempsey Center for Cancer Hope & Healing in Lewiston, Maine; the Gloria Gemma Foundation in Providence, Rhode Island; the Vermont Cancer Center in Burlington, Vermont, and two Massachusetts organizations: the Friends of Mel Foundation and the Ellie Fund.
All 12 member schools, both men's and women's programs, will again participate in the 2015-16 Skating Strides campaign. With special nights coming to each campus this season, fans will have an opportunity to see their favorite team play for Hockey East supremacy while also contributing to a cause greater than itself. A full schedule of Skating Strides game nights will be available soon.
For more information, please contact Kathy Wynters at 781-245-2122, via email at kwynters@hockeyeastonline.com

Skating Strides Dates - To Be Announced!!
---
---
All proceeds from Skating Strides 2014-2015 to benefit the following breast cancer charities: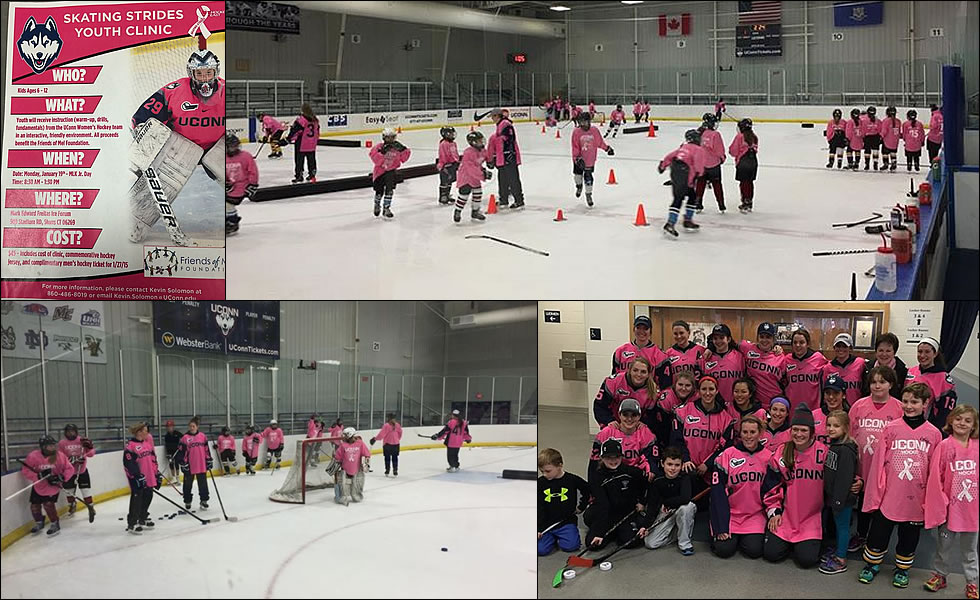 UConn Youth Clinic raises nearly $5,000 for Skating Strides! Hosted by the women's hockey team, over 100 kids age 6 -12 participated in this annual event on Martin Luther King Day. Everyone was in Pink!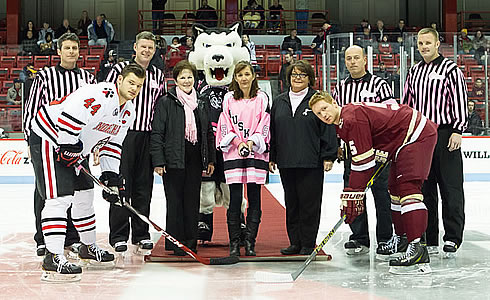 The Northeastern men got things started for Skating Strides 2015 when they hosted BC on Jan 9th. Breast cancer survivor Kim Madigan, wife of NU coach Jim Madigan, did the puck drop honors, and was joined at center ice by the Hockey East officials, sporting pink striped jerseys: Referees Tim Benedetto and Jack Millea; Linesmen Chris Millea and Marc Sullivan; along with Paws, the NU Husky; Pauline Aligheri from the Friends of Mel Foundation, and Hockey East Associate Commissioner Kathy Wynters
UMass-Lowell's Skating Strides night featured a puck drop by Robert and Roger Morrissette, representing the TeamWalk 5K Club. Funds raised at UML Skating Strides game benefit Lowell General Hospital's TeamWalk for CancerCare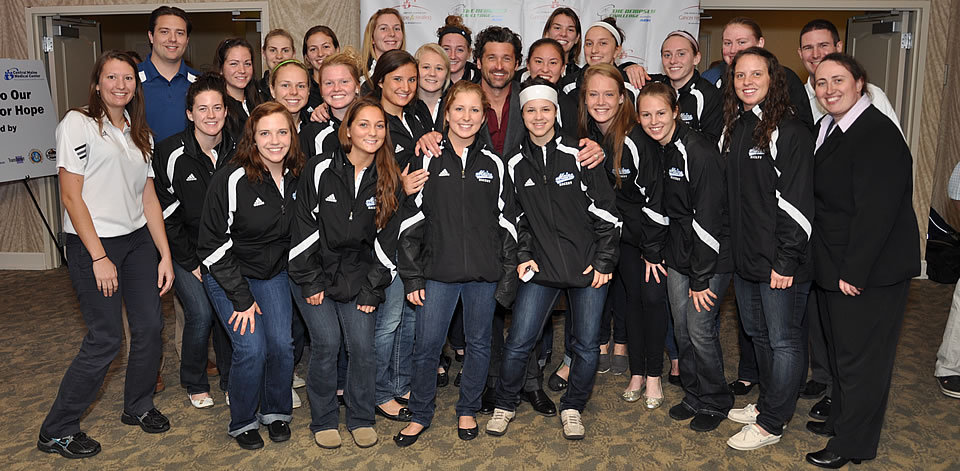 The Maine women's team had the opportunity to meet "Dr. McDreamy", Patrick Dempsey, star of TV's "Grey's Anatomy". A Lewiston, Maine native, Dempsey opened the Dempsey Center for Cancer Hope & Healing, in honor of his mom who is a cancer survivor. Through the Friends of Mel Foundation, a donation of over $8,000 was made to the Dempsey Center in 2013 from that seasons' Skating Strides event in Orono, keeping the money raised in Maine, in the state.