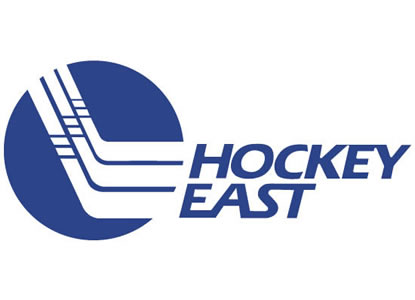 Hockey East has continued a steady rise to prominence since its founding charter on July 11, 1983, when the possibility of an apparent Ivy League departure threatened the ECAC. In response, the athletics directors from Boston College, Boston University, New Hampshire, Northeastern and Providence unveiled a new Division I men's ice hockey conference. Together, Bill Flynn of Boston College, John Simpson of Boston University, Andy Mooradian of New Hampshire, Joe Zabilski of Northeastern and Lou Lamoriello of Providence launched Hockey East. Lamoriello assumed the role of the league's first commissioner.
Later that summer, the Board of Directors added the University of Maine and the University of Lowell (now UMass Lowell). Official conference competition of the seven-team league began with the 1984-85 season, and expansion brought the league to nine teams with the additions of Merrimack College (1989) and the University of Massachusetts (1993). The entry of the University of Vermont for the 2005-06 season brought the conference membership to 10 teams.
Since its inception, Hockey East has set new competitive standards for college hockey success, annually compiling an impressive collective winning percentage against non-conference opponents, including a record .705 during the 2002-03 season and a .669 win percentage during the 25th anniversary season of 2008-09. Over the last 20 years, Hockey East has cemented itself as the nation's elite college hockey league, having earned 29 of the 74 berths in the NCAA Frozen Four and boasting eight NCAA title winners: the University of Maine in 1993 and 1999, Boston University in 1995 and 2009, Boston College in 2001, 2008, 2010 and again most recently in 2012 in Tampa, Fla.