Saturday, February 10, 2018
Vela Goal Lifts New Hampshire Into 2-2 Tie With Vermont
Junior forward Marcus Vela scores game-tying goal and adds assist for Wildcats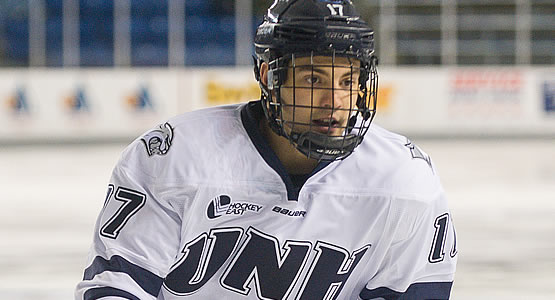 Junior forward Marcus Vela scored the game-tying goal and added an assist for the Wildcats
| | | | | | | |
| --- | --- | --- | --- | --- | --- | --- |
| Prd | Time | Team | Score | Type | Scored By | Assists |
| 2nd | 10:10 | UNH | 1-0 | EV | Ara Nazarian (9) | Marcus Vela/6, Charlie Kelleher/12 |
| 3rd | 0:41 | VER | 1-1 | EV | Max Kaufman (5) | Liam Coughlin/6, Jarrid Privitera/9 |
| 3rd | 7:59 | VER | 2-1 | EV | Jarrid Privitera (3) | Owen Grant/7, Liam Coughlin/7 |
| 3rd | 17:26 | UNH | 2-2 | PP GT | Marcus Vela (7) | Charlie Kelleher/13, Ara Nazarian/12 |
| | | | | | |
| --- | --- | --- | --- | --- | --- |
| Scoring | 1st | 2nd | 3rd | OT | Final |
| Vermont | 0 | 0 | 2 | 0 | 2 |
| New Hampshire | 0 | 1 | 1 | 0 | 2 |
| | | | | | |
| --- | --- | --- | --- | --- | --- |
| Shots on Goal | 1st | 2nd | 3rd | OT | SOG |
| Vermont | 10 | 9 | 18 | 1 | 38 |
| New Hampshire | 12 | 14 | 12 | 3 | 41 |
| | | | |
| --- | --- | --- | --- |
| Team Stats and Records | PP | PIM | SHGF |
| Vermont (9-15-6) | 0/2 | 6/12 | 0 |
| New Hampshire (10-14-6) | 1/5 | 3/6 | 0 |
| | | | | | | | |
| --- | --- | --- | --- | --- | --- | --- | --- |
| Vermont Goaltending | MIN | GA | 1 | 2 | 3 | OT | Saves |
| Stefanos Lekkas (T, 9-14-5) | 65:00 | 2 | 12 | 13 | 11 | 3 | 39 |
| | | | | | | | |
| --- | --- | --- | --- | --- | --- | --- | --- |
| New Hampshire Goaltending | MIN | GA | 1 | 2 | 3 | OT | Saves |
| Daniel Tirone (T, 10-12-6) | 65:00 | 2 | 10 | 9 | 16 | 1 | 36 |
DURHAM, N.H. - University of New Hampshire juniors Ara Nazarian (Boxford, Mass.) and Marcus Vela (Burnaby, British Columbia) each posted a goal and an assist as the Wildcats tied the Vermont Catamounts, 2-2 on Saturday at the Whittemore Center.
Vela tied the game at 2-2 with just 2:34 left in the third period. Senior goaltender Danny Tirone (Trumbull, Conn.) made 36 saves.
The Wildcats will return to the Whittemore Center on Wednesday, Feb. 14, to wrap up the season series with the University of Maine in the annual White Out the Whitt game. Puck drop will be at 7:00 p.m. Tickets can be purchased at the Whittemore Center Box Office, online at UNHWildcats.com or by calling 603-862-4000.
Score: Vermont 2, New Hampshire 2 (OT)
Records: UNH (10-14-6, 5-10-5 HEA); Vermont (9-15-6, 6-9-5 HEA)
Location: Durham, N.H. (Whittemore Center)
Date: Saturday, Feb. 10, 2018
Time: 7:25 p.m.
Attendance: 5,989
HOW IT HAPPENED
- The first period did not see any goals, and saw just two penalties, called matching minors. UNH held a slight shot advantage, 12-10.
- The Wildcats got on the board one second after a power play ended, 10:10 into the period. Nazarian found the puck in the crowded crease and buried it to take the lead.
- Vermont struck back in the third period, their first goal coming just 41 seconds into the third period by Max Kaufman.
- The Catmounts' second goal took the lead 7:59 into the third period as Jarrid Privitera found the back of the net.
- On a power play 17:26 into the third, Vela tied the game at 2-2 on a rebound from a shot by freshman Charlie Kelleher (Longmeadow, Mass.) to send the game to overtime.
- In overtime, UNH led in shots 3-1 but neither team found the back of the net.
INSIDE THE NUMBERS
- UNH outshot Vermont, 41-38.
- The lone power play goal of the game belonged to New Hampshire in the third period. A total of seven power play opportunities occurred in the game. The Wildcats went 1-5 and the Catamounts went 0-2.
- Nazarian now has seven multi-point games for his career and Vela has six.
UMILE PRESENTED WITH HOCKEY EAST FOUNDERS MEDAL
- Prior to tonight's game, coach Dick Umile was presented the prestigious Hockey East Founders Medal, becoming only the second head coach to receive the honor.
- The Hockey East Founders Medal was established in 2009 upon the occasion of the 25th anniversary Hockey East season. The inaugural recipients were the five founding athletic directors who created the conference in the 1980s. The award has been presented to five athletic directors, three conference administrators, two administrators associated with the TD Garden, and now, two coaches: Jack Parker and Dick Umile.